Omron Automation Americas, a global leader in industrial automation and safety solutions, recently announced the launch of a cutting-edge safety light curtain that supports flexible production needs and provides high levels of environmental resistance.
Hoffman Estates, IL., September 19, 2019 - Industrial automation and safety solutions pioneer Omron Automation Americas recently launched a state-of-the-art light curtain that meets the needs for more flexible production line design. The broad functionality of the F3SG-SR Series Safety Light Curtain helps manufacturers comply with global safety standards without sacrificing efficiency or throughput.

To meet the challenges of today's marketplace, manufacturers now need to improve mix and volume flexibility and invest in more sophisticated equipment. The resulting variety in production line layouts can make it difficult to choose the right light curtains. Omron's offering helps reduce complexity and setup time by minimizing wiring connections and providing easy-to-see color indicators for quick verification of beam status and alignment.
In addition, the F3SG-SR supports a broader range of manufacturing needs by providing the necessary ruggedness to function in harsh environments. With an oil-proof IP67G rating and the ability to function in temperatures as low as -22°F (-30°C), this advanced design helps avoid the tendency of most light curtains to malfunction in many demanding industrial settings.
Omron's dedication to ease of use is evident in the light curtain's simple beam adjustment and multiple accessory options to reduce installation time. These user-friendly features make it unnecessary to hire an engineer with specialized expertise to set up the F3SG-SR. The light curtain also makes it easier to identify the cause of equipment stoppages.
Anyone interested in learning more about the unique capabilities of Omron's safety light curtain and how it can assist with flexible system design are encouraged to visit the safety light curtain product pages for F3SG-SRA and F3SG-SRB on Omron's website.
About Omron Automation
Omron Automation is an industrial automation partner that creates, sells and services fully integrated automation solutions that include sensing, control, safety, vision, motion, robotics and more. Established in 1933 and currently headed by President Yoshihito Yamada, Omron's 36,000 employees help businesses solve problems with creativity in more than 110 countries. Learn more at automation.omron.com.
Featured Product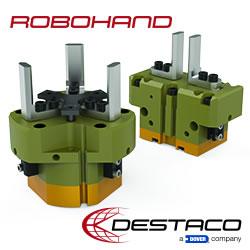 Destaco's Robohand RDH/RTH Series 2 and 3 jaw parallel grippers have a shielded design that deflects chips and other particulate for a more reliable, repeatable operation in part gripping applications ranging from the small and lightweight, to the large and heavy. RDH Series of Rugged, Multi-Purpose Parallel Grippers for Heavy Parts - Designed for high particulate application environments, automotive engine block, gantry systems, and ideal for heavy part gripping The series includes eight sizes for small lightweight to large/heavy part gripping. RTH Series of Powerful, Multi-Purpose Parallel Grippers for Heavy Parts - Designed for large round shaped parts, automotive engine block and gantry systems, and heavy part gripping. They're available in eight sizes for small lightweight to large and heavy part gripping.