Stepper motor driver is an actuator which can transform pulse signal into angular displacement signal, it drives stepper motor to rotate at an angle called step angle in the set direction when receiving a pulse signal. The motor speed is up to the pulse frequency given from the controller, and the displacement is decided on the pulse quantity given from the controller.
STEPPERONLINE offer three types of stepper motor drivers:

Digital Stepper Driver
Digital stepper driver is developed with advanced DSP control algorithm based on the latest motion control technology. It is an ideal choice for stepper motor solutions. Its high quality, high-level performance and long service life impress many customers.
Closed Loop Stepper Driver
Closed loop stepper drivers work with closed loop stepper motors with an encoder to receive the signal of position. It offers higher peak torque ranges at high speed and greater machine throughput, as well as quieter operation and less power consumption.
Integrated Stepper driver
Integrated stepper drivers are drivers can be mounted on stepper motors. The most advantage for integrated stepper motor is space and greater reliability. Currently, STEPPERONLINE offer three types of integrated stepper motor with:
a. Stepper Motor + Stepper Driver 
b. Stepper Motor + Stepper Driver + Controller 
c. Stepper Motor + Stepper Driver + Encoder 
STEPPERONLINE always offers best quality stepper motor drivers at the best price.
For more information, please visit www.omc-stepperonline.com.
Featured Product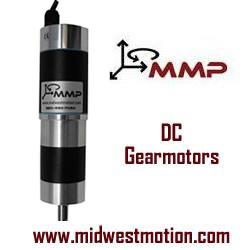 Midwest Motion Products, Inc. (MMP), is a well-established, healthy, & growing Family Owned Business, founded in 2001. MMP specializes in cost-effective standard DC Gearmotors, Motors, Controls, and ancillary equipment. Known world-wide for our "Lightning Fast" delivery capabilities, you can have a Standard Planetary or Right Angled DC Gearmotor BUILT and SHIPPED, often on the very same day you call. Offering Brushed and Brushless designs, with winding voltages ranging from 12 VDC to 120 VDC, we can deliver your "Robust & Reliable" samples within HOURS, instead of weeks, or even months.