The recently improved magnetic gripper from Goudsmit Magnetics is used for the automated pick-up, placement or positioning of steel or other ferromagnetic objects. Examples include: removing sheet metal from presses, destacking products from boxes (bin picking), assembling steel parts or handling of punched steel parts, blanks and perforated steel sheets in robotic applications. The ultralight magnetic gripper is fitted with strong permanent neodymium magnets and is therefore extra safe. It can be used in grippers on robot arms. The handling magnets can be switched on and off by means of compressed air and have a tapped hole interface for attachment to a robot arm, optionally in combination with a spring plunger. See film: https://youtu.be/hcXJ98mXHZE
Robot end-of-arm tooling

This makes magnetic grippers an efficient alternative to traditional robotic grippers, as what is called 'robot end-of-arm tooling'. Among other things, the system is suitable for lifting and transporting thin steel sheets one by one. The rubber pad at the end ensures that the work piece does not slide during vertical pick-up and prevents the work piece from being damaged. This easily installable system is already being used by a number of large car manufacturers and in the sheet metal industry.
Vacuum technique
The use of a magnetic gripper on robot arms replaces the traditional vacuum technique. A disadvantage of vacuum grippers is that they are susceptible to malfunction and subject to wear. Vacuum grippers also have suction cups that must be positioned correctly, because if they are even partially over a hole in the metal sheet they will not grip at all. The electromagnets used by other manufacturers are not a good solution for this problem, because they are so heavy that they reduce the lifting capacity; a magnetic griper with permanent magnets is considerably lighter. Moreover, the gripper does not wear and has a longer service life than vacuum grippers.
Application:
Automotive industry
Office furniture industry
Metal industry
Machine builders; cutting, bending, punching, laser and automation industries
Industrial robots
Press and mould industry
System integrators
Featured Product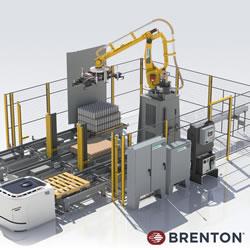 Brenton is a leader in robotic solutions with standard product offerings including palletizing and depalletizing for efficient an option for carrying hard-to-handle products, as well as larger scale systems with an optimized footprint; and case and carton loading solutions for numerous industries. In addition, Brenton works with customers on integrated solutions, offering robotics in a broad spectrum of robotics to fully integrate end of line systems. Brenton helps packaging customers protect their reputation and grow the trust of their consumers.