Industry leader will demonstrate variety of connection solutions focused on driving efficiency and safety at all stages of vehicle manufacture
DUNCAN, S.C. (Oct. 9, 2019) — Manufacturers in the automotive industry looking for ways to increase efficiency and improve safety are invited to stop by Booth 1012 at the Automotive Testing Expo 2019 to learn about Stäubli's industry-leading quick-connection solutions for fluids, gases, thermal management and more.

This year's ATE is expected to draw more than 6,000 attendees to the Suburban Collection Showplace in Novi, Michigan, during its Oct. 22-24 run. Attendees will have the opportunity to learn about innovative processes in automotive testing, development, validation and calibration from the more than 360 vendors who are part of this year's event.
In Booth 1012, Stäubli representatives will use a methanol-fueled Honda 1999 CART Series engine connected to a testing platform to demonstrate a wide range of the innovative coupling solutions that have made Stäubli an international leader of engine test and manufacturing applications. The 2.65-liter turbo-charged V8 can develop a staggering 750 horsepower - more than enough to demonstrate the value and reliability of Stäubli connectors under the most demanding conditions.
"Time after time, manufacturers who have partnered with Stäubli have been able to realize greater efficiencies on the production line," said Phil Briggs, Fluid Connectors Division Manager. "With Stäubli solutions, our valued manufacturing partners have found they are able to stay nimble and respond more quickly to changing market demands and government regulations, all while making the workplace safer for their employees."
Among the Stäubli quick-connect solutions to be demonstrated during the expo:
SPT08 — Non-spill quick release coupling for fuel lines
SPH12 — Clean-break safety quick coupling with bayonet locking for brake fluids, oils, etc.
SPH03 — Clean-break safety quick coupling with bayonet locking for brake fluids, oils, etc.
NCB12 — Stainless steel, flush, flat-face quick coupling for all types of fluids
SPT/CG12 — Aluminum clean-break coupling for thermal management
RBE06 — Modular quick release coupling with push button for gases and liquids
RPE10 — Custom socket for engine testing
MCS Plate — Automatic multi-connection
RPE08 — Custom socket for engine testing
DMR10 — Full flow aluminum quick coupling
RBE08 — Modular quick release coupling with push button for gases and liquids
HCB05 — Clean-break quick coupling with bayonet locking for a wide range of fluids
CBI06 — Non-spill flat face coupling, primarily stainless steel with high mechanical resistance
UPA12 — Full flow stainless steel quick couplings for all liquids
RME09 — Double shutoff quick coupling for coolants
Visit www.staubli.com for more information on the company and products.
About Stäubli North America
Stäubli North America has over 200 employees supporting Connectors, Robotics and Textiles customers. The company's North American headquarters is located in Duncan, S.C., and the sales force is strategically placed on the West Coast, Canada, Mexico and elsewhere throughout the continent.
In 2018, Stäubli opened its fourth site in North America, a training facility and service center in Novi, Michigan. This newest location serves as a sales, service and engineering center for our fluid connector, robotics and electrical connector customers.
Stäubli is one of the leading manufacturers of quick connector systems. Stäubli covers connection needs for all types of fluids, gases and electrical power. Our standard and specialized products, including single and multi-pole connectors, tool changers and quick mold change systems, combine performance, quality, safety, dependability and durability. Choose the original Stäubli.com.
Stäubli is a leading manufacturer of, quick release couplings, robotics systems and textile machinery. With a workforce of over 5,000 employees, Stäubli is present in 29 countries supported by a comprehensive distribution network in 50 countries worldwide.
Featured Product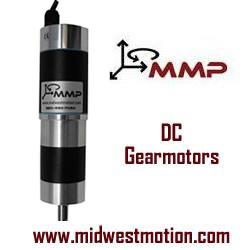 Midwest Motion Products, Inc. (MMP), is a well-established, healthy, & growing Family Owned Business, founded in 2001. MMP specializes in cost-effective standard DC Gearmotors, Motors, Controls, and ancillary equipment. Known world-wide for our "Lightning Fast" delivery capabilities, you can have a Standard Planetary or Right Angled DC Gearmotor BUILT and SHIPPED, often on the very same day you call. Offering Brushed and Brushless designs, with winding voltages ranging from 12 VDC to 120 VDC, we can deliver your "Robust & Reliable" samples within HOURS, instead of weeks, or even months.