With just five business days from order acceptance to shipment, Universal Robots has the best factory lead times in the industry, allowing customers to utilize use-it-or-lose-it year-end budgets, applying the Section 179 tax deduction.
No less than 89 percent of manufacturers are having difficulty finding skilled workers according to the Society of Manufacturing Engineers. Close to every third US manufacturer reports having to turn away new business or losing revenue opportunities because of workforce constraints. Manufacturers across a wide range of industries are seeking solutions to this historically low unemployment combined with a skills gap issue that experts predict will last at least another decade.

"Manufacturers are still struggling to fill jobs and many can't turn to traditional automation, which is too expensive and complex, especially for small and midsized businesses"
With the emergence of collaborative robots (cobots), manufacturing operations now have access to new types of cost-effective automation technologies that can work alongside existing staff and amplify their efforts, effectively addressing the labor shortage. With the help of the Section 179 tax deduction, US businesses may be able to significantly stretch their 2019 budgets and purchase cobots to take on the repetitive manufacturing tasks that workers don't want. Section 179 requires that qualified equipment and off-the-shelf software is purchased and placed into service by December 31, 2019.
"With the industry's best factory lead and set-up time, we can still get cobots into service by year-end," says Stu Shepherd, regional sales director of Universal Robots (UR) Americas division, announcing that qualified orders received and processed by mid-December 2019 will be delivered by the end of the year, pending customer-selected shipping method.
"Manufacturers are still struggling to fill jobs and many can't turn to traditional automation, which is too expensive and complex, especially for small and midsized businesses," says Shepherd. "UR cobots are cost-effective and easy to implement, and with the Section 179 tax deduction they can be even more affordable. Businesses should consult their tax expert right away to see if they can take advantage of this opportunity, and we'll do our part to help them meet eligibility requirements."
Find out more: urrobots.com/taxincentives
About Universal Robots
Universal Robots was founded in 2005 to make robot technology accessible to all by developing small, user-friendly, reasonably priced, flexible industrial robots that are safe to work with. Since the first collaborative robot (cobot) was launched in 2008, the company has experienced considerable growth with the user-friendly cobot now sold worldwide. The company, which is a part of Teradyne Inc., is headquartered in Odense, Denmark, and has subsidiaries and regional offices in the United States, Germany, France, Spain, Italy, Czech Republic, Poland, Hungary, Romania, Russia, Turkey, China, India, Singapore, Japan, South Korea, Taiwan and Mexico. In 2018, Universal Robots had a revenue of USD 234 million. For more information, please visit www.universal-robots.com or read our blog at blog.universal-robots.com.
Featured Product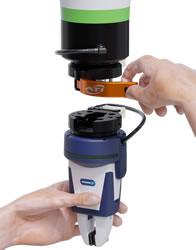 Simpler, stronger, and more precise. ATI Industrial Automation has developed a series of Manual Tool Changers that provides a cost-effective solution for quickly changing tools by hand. They feature a unique design that combines high strength, excellent repeatability, and a patent-pending screw-cam locking mechanism with multiple fail-safe features, which resists vibration and prevents loosening. These robust and compact Manual Tool Changers can handle payloads up to 80 pounds (36 kg) and pass pneumatics and electrical signals.