Miniaturized device features accuracy, robustness and a zero-maintenance rotation counter – all in a 22 mm diameter package
Size matters, and in the world of industrial automation, providing exceptional performance in a highly compact package can be an enormous advantage. With this in mind, encoder manufacturer POSITAL has unveiled a fully functional prototype of their new miniature multi-turn kit encoder for integrated motor feedback. With a diameter of only 22 mm and a height of 23 mm (0.87"/0.9"), the new device is the world's smallest multi-turn kit. It features a self-powered rotation counter that does away with the need for backup batteries or complex gear systems. POSITAL's extremely trim 22 mm magnetic Kit Encoders are designed for builders of servomotors, feedback-controlled stepper motors, microdrives, miniature robots and other machines where high-precision position feedback is required and space is at a premium.

Like their 'big brothers', the new 22 mm kits are reliable, accurate and simple to install. Unlike resolvers, they cover a multi-turn measurement range and provide digital output. Compared to optical kits, they are more rugged and more resistant to contamination by oil, dust or moisture. They offer 17-bit electronic resolution and a multi-turn measurement range of up to 32 bits. Vendor-neutral SSI and BiSS C interfaces are supported. Installation of the 22 mm kits is very straightforward and can be done under normal factory conditions. Integrated self-calibration simplifies commissioning. The combination of robust magnetics, high operational reliability (with an integrated temperature sensor for diagnostics), multi-turn functionality and maintenance-free operation all help to reduce the cost of ownership.
Information on the Multi-Turn Absolute Kit Encoders from Posital Fraba can be viewed at:
https://www.electromate.com/products-by-manufacturer/posital-fraba/
Featured Product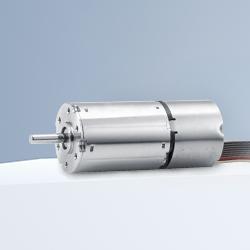 The FAULHABER stepper motor AM3248 raises the bar in terms of performance and dimensions. Offering up to 10,000 rpm, it achieves five times the speed of comparable stepper motors. Combined with a gearhead reduction of 100:1, it supplies a torque of 5 Nm. With a diameter of just 32 mm, it is suited for a wide range of applications in areas such as aerospace, laboratory automation, the semiconductor industry, robotics and 3D printing. Learn more!