Pleora demonstrating AI Gateway and "no code" machine learning hyperspectral imaging plug-in at SPIE Photonics West and ATX West
OTTAWA, CANADA, January 29, 2020: Pleora Technologies and perClass BV today announced a technology partnership that simplifies the deployment of machine learning hyperspectral imaging for inspection applications. Pleora will be demonstrating its new AI Gateway and hyperspectral imaging plug-in developed with perClass at SPIE Photonics West (Pleora booth #4263, perClass booth #5248) and ATX West (Pleora booth #4255 with Saber1).

Where traditional cameras capture images in broad red, green, and blue wavelengths to match human vision, hyperspectral imaging provides narrower wavelengths to include ultraviolet or near infrared information for each pixel on an inspected object. With the ability to capture the entire electromagnetic spectrum, hyperspectral imaging is being increasingly adopted across multiple industries to analyze, detect, and classify materials.
Food inspection, for example, is adopting hyperspectral imaging to detect foreign materials and ensure products meet quality standards while reducing costly visual inspection. In the pharmaceutical market, hyperspectral imaging can detect subtle changes in the composition of active ingredients in visually identical pills to screen out-of-specification products.
"Hyperspectral imaging provides deeper insight across a widening range of markets, but end-users and integrators consistently struggle with deployment," said Jonathan Hou, Chief Technology Officer, Pleora. "By including powerful automatic machine learning capabilities from perClass as a plug-in solution in our AI Gateway, Pleora is delivering the vision industry's most straightforward solution to train and deploy AI algorithms leveraging hyperspectral imaging for inspection applications."
"Working with Pleora, we're helping break down deployment barriers for spectral imaging," said Dr. Pavel Paclik, Founder and Managing Director, perClass BV. "Combining perClass interpretation software and runtime technology with Pleora's unique approach to AI deployment, it's easier for users and integrators to utilize hyperspectral imaging across a wider range of industrial applications including pharmaceuticals, food production, recycling, and manufacturing."
With the Pleora AI Gateway and perClass AI plug-in, end-users and integrators can deploy machine learning hyperspectral capabilities without any additional programming knowledge. Images and data are uploaded to perClass Mira® "no code" training software on a host PC, which automatically generates AI models that are deployed on the Pleora AI Gateway in a production environment.
Pleora's AI Gateway works seamlessly with any standards-compliant hyperspectral sensor, meaning end-users can avoid vendor lock-in while maintaining processes and analysis software. Many software processing solutions require custom workarounds to support hyperspectral through GigE Vision because they can't interpret multiband information. In comparison, the AI Gateway bridges the gap between applications and existing machine vision software by automatically handling image acquisition from the hyperspectral imaging source and sending out the processed data over GigE Vision to inspection and analysis platforms.
Pleora's AI Gateway provides additional plug-in AI skills for classification, sorting, and detecting, with the processing flexibility of an NVIDIA GPU to train and deploy open source or custom algorithms developed in popular frameworks like TensorFlow and OpenCV. Lead customers are now evaluating the AI Gateway in inspection applications to help reduce costly inspection errors, false-positives, and secondary screenings. For more visit https://www.pleora.com/products/artificial-intelligence/ai-gateway/.
About Pleora Technologies
Pleora Technologies invented high-performance frame grabbers and embedded hardware for the delivery of sensor data over Gigabit Ethernet, and leads the market in interfaces for USB 3.0. With this spirit of innovation, Pleora engineers reliable sensor interfaces and embedded vision gateways for system manufacturers and camera companies serving the military, medical, and industrial automation sectors. Pleora provides end-to-end solutions that shorten time-to-market, reduce risk, and lower costs. We partner with our customers and tailor products to meet their individual needs. Find out more at pleora.com.
About perClass BV
Since 2008, perClass has been providing software for design and production deployment of machine learning and spectral imaging solutions. It is used in the most demanding applications, such as food quality control, industrial sorting, medical diagnostics or traffic accident detection.
The perClass Mira user-interface radically simplifies interpretation of spectral images. Within minutes users can create sophisticated classification solutions without machine learning expertise or programming. perClass runtime technology enables GPU accelerated real-time deployment in custom applications in both PC and edge computing scenarios. Find out more at www.perclass.com
Featured Product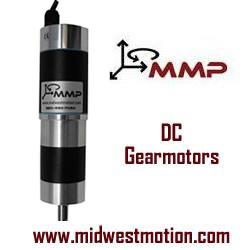 Midwest Motion Products, Inc. (MMP), is a well-established, healthy, & growing Family Owned Business, founded in 2001. MMP specializes in cost-effective standard DC Gearmotors, Motors, Controls, and ancillary equipment. Known world-wide for our "Lightning Fast" delivery capabilities, you can have a Standard Planetary or Right Angled DC Gearmotor BUILT and SHIPPED, often on the very same day you call. Offering Brushed and Brushless designs, with winding voltages ranging from 12 VDC to 120 VDC, we can deliver your "Robust & Reliable" samples within HOURS, instead of weeks, or even months.