FM060-5-EM and FM060-10-EM are connected to the power supply and motor using screw terminalswhile the FM060-25-EM features pre-soldered connection leads.
Available immediately from ADVANCED Motion Controls are three new additions to the FlexPro™ servo drive family, the FM series. Designed with compact form and power density in mind, the micro-sized drives can outperform larger-sized digital servo drives and still be integrated into tight spaces. The new FM drives are equipped with an additional interface board that makes it easy to integrate into your system with standard connectors.

FM060-5-EM and FM060-10-EM are connected to the power supply and motor using screw terminalswhile the FM060-25-EM features pre-soldered connection leads.
Features include:
• 50.8 x 25.4 x 26 mm (2 x 1 x 1.03 in)
• 10-55 VDC input
• 5 A continuous, 10 A peak for FM060-5-EM
• 10 A continuous, 20 A peak for FM060-10-EM
• 25 A continuous, 50 A peak for FM060-25-EM
• Incremental encoder and BISS C-mode feedback
• Torque, velocity, and position operating modes
• Phoenix and Molex connectors
• Configuration and full loop tuning
• IMPACT™ architecture
Projected Industries & Applications:
The small size of the FM drives makes them perfect for cobots (collaborative robots), AGVs, portable devices, lab and warehouse automation, military equipment, and any other integrated design.
About FlexPro™
FlexPro™ is AMC's newest family of digital servo drives. With cutting edge engineering, FlexPro™ is meant to expand the capabilities of AMC's already powerful and diverse product selection. The IMPACT™ architecture allows FlexPro™ servo drives to maintain the intelligence and power of larger-sized servo drives while fitting into much more compact packages.
About IMPACT™
IMPACT™ (Integrated Motion Platform And Control Technology) is the architecture that makes AMC's FlexPro™ drives possible. The stacking of circuit boards with creative selection and placement of high-power components allows for much higher power density than previously produced servo drives. The expanded processing capabilities ensure the drive's intelligence is unmatched. IMPACT™ makes its debut with the FE060-25-EM. This technology will be used in subsequent FlexPro™ drives as well as any future custom products where it is desired.
Information on the FlexPro™ servo drive family from AMC can be viewed at:
https://www.electromate.com/pub/media/assets/catalog-library/pdfs/advanced-motion-controls/FE060-25-EM-Brochure.pdf
Featured Product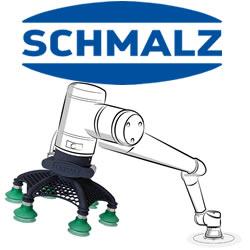 In order to interact with their environment and perform the tasks, lightweight robots, like all industrial robots, depend on tools - and in many cases these are vacuum grippers. These form the interface to the workpiece and are therefore a decisive part of the overall system. With their help, the robots can pick up, move, position, process, sort, stack and deposit a wide variety of goods and components. Vacuum gripping systems allow particularly gentle handling of workpieces, a compact and space-saving system design and gripping from above. Precisely because the object does not have to be gripped, the vacuum suction cupenables gapless positioning next to each other.