New Branding Designed to Reflect the Company's Mission to Deliver Solutions that Transform the World's Supply Chain
Seegrid, the leader in self-driving industrial vehicles for material handling, revealed the company's complete rebranding, including the launch of a new logo and website, reinforcing the company's vision. The renewed brand, along with new products and technologies, will be on full visual display at MODEX 2020 from March 9, 2020 to March 12, 2020 in Atlanta, Georgia.

To initiate the rebrand process, the company conducted in-depth research, meeting with several internal and external sources in effort to capture the true essence of the brand. Through the analysis, two consistent themes emerged as key differentiators within the market — the integrity of the company's trusted solutions and the passion for customer success from Seegrid's expert-level team.
"Our rebrand initiative represents a major milestone in Seegrid's growth trajectory," said Seegrid Chief Executive Officer Jim Rock. "Always true to our core values, we've continued to strengthen Seegrid's solid foundation by offering the best products while also providing an unmatched level of service and support to bring our customers' vision to life. Today, our new brand reinforces our commitment to innovation, but also captures the human element of our strong, supportive, and dedicated team of experts."
Seegrid sets a high bar for Industry 4.0 solution providers, providing the most robust, flexible, and reliable navigation system for industrial automated guided vehicles (AGVs) and autonomous mobile robots (AMRs). Their self-driving, vision guided vehicles are unlike any other infrastructure-free AGV on the market with nearly 3 million autonomous production miles driven by customers. In addition to offering leading technology and products, Seegrid also provides an unmatched level of service and support. The company uses a tailor-made method of use-case design, implementation, training, and support to ensure each customer site has well-designed applications, well-trained employees, and a dedicated success team to assist along the way.
On the design level, the new logo symbolizes a company that is both innovative and approachable. The new branding blends elements of movement, efficiency, and trust while having an overall friendly aesthetic, creating a sharp new visual identity.
"We have strong advocates within our customer base because our team is truly passionate about improving the quality of work and life for our customers by moving material as safely, effectively, and efficiently as possible. We are proud to lead the way in a rapidly evolving industry, and our new branding illustrates how far we've come," stated Rock.
To view Seegrid's new website or learn more about Seegrid's customer-focused solutions, visit www.seegrid.com. While attending MODEX 2020, visit the Seegrid booth #10012.
About Seegrid
Seegrid is the leading provider of connected self-driving vehicles for material handling with nearly 3 million miles driven. The Seegrid Smart Solution combines flexible and reliable infrastructure-free vision guided vehicles with fleet management software for a complete connected solution. Seegrid accelerates Industry 4.0 and lean initiatives with incremental automation, helping companies achieve a truly connected enterprise and transform into smart factories of the future. www.seegrid.com
Featured Product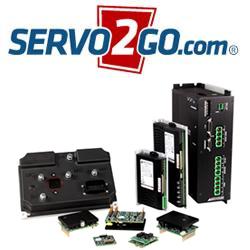 Engineered to drive brushless and brush servomotors in torque, velocity or position mode, Servo2Go.com offers a broad selection of servo drives in a wide range of input voltages and output power levels.