SuperPick Automated Material Handling System for Customer Returns Makes Debut at MODEX
-Innovative robotics pioneer Soft Robotics, Inc. today announced the first robotic solution specifically designed for the handling of product returns. The SuperPick™ Polybag Picking System, an extension of the SuperPick platform, is a new end-to-end robotic material handling solution providing e-commerce operations the ability to automate the handling, scanning and loading of outbound orders and returns of polybagged items. The system will be on display at MODEX in Soft Robotics' booth #3627 in Atlanta, GA from March 9-11, 2020.

Reverse logistics solved with new material handling application from @SoftRoboticsInc. #Superpick for #retail and #ecommerce automates order fulfillment and returns processing.
Tweet this
The SuperPick Polybag Picking System is the latest offering from Soft Robotics' SuperPick platform. All SuperPick solutions are designed to solve unconstrained material handling challenges in labor starved markets and can integrate across a variety of applications. The SuperPick Polybag Picking System combines ultra-fast 3D vision with state-of-the-art gripping technology to handle items including those with the highest degree of variability. The turnkey system is designed for order fulfillment and returns processing of items in polybags or self-sealing mailer bags. These malleable plastic bags have become the preferred packaging method in e-commerce due to the lower shipping costs versus cardboard boxes. Handling the variety and the nature of unstructured items in polybags is something that traditional automation has not yet been able to reliably address. The SuperPick Polybag system overcomes these challenges and can handle a multitude of SKUs without re-programming or time-consuming, complex training. It can pick, scan, and deliver identified products of varying size, shape, fragility and weight to any material handling system on the market.
Watch this video to see the system in action.
The 2019 holiday season shone a light on the challenge and opportunity specific to reverse logistics. According to a recent report, up to thirty percent of all online orders are returned with some retailers experiencing levels as high as fifty percent. In addition, processing a return requires twenty percent more space and twice the labor as sending out the initial package shipment. It is estimated that the 2019 holiday returns could amount to as much as $90 to $95 billion worth of merchandise returned in 2020. Some retailers will replace the item, or credit the customer's account and instruct them not to return it; thereby creating environmental considerations that can result from disposing items into landfills, and is why industry experts have referred to product returns as "the ticking time bomb of multichannel retailing."
"Reverse logistics and returns handling have become the center of attention for many e-commerce companies as recent studies have shown that forty-one percent of people who purchase items online do so with the intention of returning at least part of their order. This problem is only going to get worse as consumers continue to increase their volume of online shopping each year," said Carl Vause, CEO of Soft Robotics. "We've introduced an innovative automation solution that not only addresses the complexity and variability in the unstructured environment of the reverse flow of merchandise, but also is an end to end solution for the full order fulfillment process."
For more information, visit Soft Robotics at MODEX in booth #3627. Contact Mandy Dwight, Director of Business Development, mdwight@softroboticsinc.com to request a meeting at MODEX. SuperPick will also be included in the following partner booths at MODEX to highlight the spectrum of applications which may be addressed with this technology platform:
Honeywell Intelligrated booth #7619 will include a goods-to-robot GTR vertical tote picking solution.
Sealed Air booth #8248 will include an end-to-end robotics picking fulfillment solution for packaging with the Autobag 850S, I-Pack and FloWrap systems.
About Soft Robotics
Soft Robotics is robotic automation for the factory of the future. Powered by advanced material science and AI, Soft Robotics' gripping solutions adapt to today's ever-changing manufacturing supply chain without the cost and complexity of traditional robotic systems. Since the company's inception, its technology platform has experienced substantial customer validation and adoption, with production installations running 24/7 for global customers in food & beverage, advanced manufacturing and e-commerce, and more. For more information, please visit www.softroboticsinc.com or follow the company @SoftRoboticsInc.
Featured Product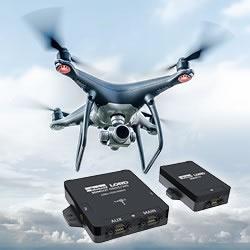 The new complete inertial navigation solution comes with GNSS/INS 3DMGQ7 sensor, 3DMRTK correction modem and real time SensorCloud RTK correction network. The sensor comes with Dual antenna GNSS, tactical grade IMU with centimeter-level accuracy with RTK. Low profile and light weight at 78 grams, this sensor is The sensor is optimized for size and weight in Unmanned Ground Vehicles, mobile robots and autonomous vehicles. The network interface 3DMRTK modem is seamlessly integrated into the 3DMGQ7 sensor supports industry-standard NMEA and RTCM 3.1 protocols. The network RTK support comes with cellular data plan. The SensorCloud RTK is a cloud-based RTK correction system with private encrypted data stream. Check out our G Series and C Series OEM products.