The market leader in collaborative robotics will show attendees at North America's largest supply chain expo how cobots can automate hard-to-staff palletizing and piece-picking tasks with new applications from partners MDCI Automation, RightHand Robotics, and Cross Automation.
With e-commerce generating the greatest year-over-year growth of all U.S. retail industries, there is now more warehousing space being built in the U.S. than projected warehousing jobs required to fill that space. When thousands of supply chain professionals were asked in a recent Materials Handling Institute survey what technologies would yield the greatest boost to productivity, 'Robotics and Automation' was their answer.

"With e-Series cobots from Universal Robots we're able to provide customers with the predictability they need to fulfill orders quickly and accurately"
"Numerous factors propel the emergence of collaborative robots in the supply chain industry," says Joe Campbell, senior manager of applications development with Universal Robots. "This is a quickly evolving industry where fulfillment centers now have a need for robotic piece-picking processes that support a wide range of products and high throughput for the growing number of small-sized orders," explains Campbell, who speaks on the topic in his presentation "Collaborative Robots: Re-Shaping Manufacturing, Packaging and Distribution" at the MODEX show Monday, March 9.
While traditional industrial robots usually stay bolted down in protective cages, dedicated to one handling task only, collaborative robots, or cobots, effectively address this automation challenge with flexible implementation and low upfront cost. At MODEX booth 1007 from March 9-12 in Atlanta Universal Robots will showcase its collaborative robot arms in new applications, giving attendees hands-on experience with the next generation of automation solutions for the supply-chain industry.
Quick Deployment Kit - helps sort out the supply chain
The UR booth will be the first public display of the Quick Deployment Kit (QDK) a collaborative, accurate, and scalable solution for parcel induction, case packing, and goods-to-person tasks developed by MDCI Automation, a Universal Robots Certified Systems Integrator in partnership with Plus One Robotics. Utilizing a powerful vision engine powered by PlusOne's PickOne Software and Universal Robots' UR10e cobot arm, the QDK identifies the pick points for items in a pick zone and sends the points to the UR cobot that picks and places each item onto a place zone/conveyor. The QDK can keep up with fast-moving conveyor speed and is able to "learn" to pick targets via human assistance through a remote alerting technology.
"Universal Robots' collaborative robot platform delivers proven hardware, ease of programming, and a large ecosystem of UR+ partners providing industry-leading products that are tested and approved to work with UR cobots," says Kurt Scheffler, VP of Engineering at MDCI Automation. The company integrated a UR+ certified gripper from Soft Robotics and cell equipment from UR+ partner Vention in the QDK.
Cross Palletron - palletizing on the move
UR's MODEX booth is also the launch pad for Cross Company's new Cross Palletron, a solution that utilizes the UR10e cobot to create a fully collaborative and mobile palletizer and de-palletizer. Cross' easy-to-use-software eliminates the need for complex robotic programming and makes redeploying the palletizer for a different production line or package size much quicker.
"We are excited to bring this solution to market as we hear from many of our customers that keeping these mundane tasks staffed is an ongoing challenge," says Lynn Crump, President of the Cross Company Automation Group. "In fact, our customers have reported to us that this system has an ROI of less than two years for single shift operations and even sooner for those with multiple shifts."
The Cross Palletron aims to keep workers from doing repetitive bending and lifting tasks that can lead to workplace injuries. Staff can then be allocated to higher-value decision-based work that is less mundane and can't be easily automated.
RightPick2 - record-setting picking platform
RightHand Robotics' UR-powered solution took the MODEX 2018 show by storm as RickPick set a world record of piece-picks delivered at a tradeshow, successfully picking and placing 131,072 items over the course of the three-day show. This year brings RightHand Robotics' new MHI Innovation Award-winning RightPick2 platform showcased at the company's MODEX booth 9826 featuring an intelligent gripper, a vision system, control software and a UR5e cobot handling the "3Rs"; the widest Range of products at high Rate and Reliability.
"With e-Series cobots from Universal Robots we're able to provide customers with the predictability they need to fulfill orders quickly and accurately," says Vince Martinelli, Head of Product and Marketing at RightHand Robotics. "Universal's cobots are easy to work with and so is the team at UR. They've been a reliable and responsive supplier and partner to us at RightHand, giving us the confidence to incorporate their advanced technology into our platform."
The RightPick platform has successfully completed many millions of picks autonomously across numerous industries, including e-commerce, retail, pharmaceuticals, grocery, and more. Companies choosing to leverage these capabilities in their respective fulfillment operations include Japan's largest wholesaler of consumer-packaged goods, PALTAC CORPORATION, which is operating a multi-robot fleet in their new RDC Saitama facility.
UR cobots will also be exhibited in the following MODEX booths:
Manhattan Associates, B7485 - UR5 e-Series cobot as part of the RightHand Robotics RightPick piece-picking solution that can handle a large range of items reliably and at high rates for the e-commerce supply chain industry.
Tompkins Robotics, B9002 - UR5 cobot as part of the RightHand Robotics RightPick piece-picking solution demonstrating live robotic induction to the t-Sort modular robotic sorter.
About Universal Robots
Universal Robots (UR) was founded in 2005 to make robot technology accessible to all by developing small, user-friendly, reasonably priced, flexible collaborative robots (cobots) that are safe to work with. Since the first cobot was launched in 2008, the company has experienced considerable growth with the user-friendly cobot now sold worldwide. The company, which is a part of Teradyne Inc., is headquartered in Odense, Denmark, and has regional offices in the United States, Germany, France, Spain, Italy, UK, Czech Republic, Poland, Hungary, Romania, Russia, Turkey, China, India, Singapore, Japan, South Korea, Taiwan and Mexico. In 2019, Universal Robots had a revenue of USD 248 million. For more information, please visit www.universal-robots.com.
Featured Product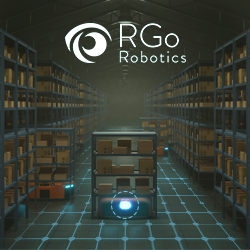 RGo's intelligent vision and AI system, Perception Engine™, provides mobile robots with 3D perception capabilities, enabling them to understand complex surroundings and operate autonomously just like humans. Its camera-based system operates is able to localize, map, and perceive in even the most robust environments including indoor/outdoor and dynamic or unstructured environments.