Leading fulfillment solutions provider increases operational flexibility and productivity for multi-channel commerce, retail, B2B and 3PL companies worldwide
6 River Systems (6RS), part of leading global commerce company Shopify Inc., today announced major enhancements to its wall-to-wall fulfillment solution, including upgrades to its collaborative mobile robot, Chuck.

6RS empowers operators to transform the entire fulfillment workflow from putaway, to picking, sorting and packing. Improvements to the solution's order allocation algorithm and optimizations to batch, zone and other picking methodologies continue to reduce associate walking in the warehouse. With new modular and larger multi-level workspaces, Chuck is the most flexible collaborative mobile robot in the industry.
"Operational efficiency is critical to providing an accurate and fast delivery experience, and the demand for this continues to grow. Our solution from 6 River Systems enables us to increase our throughput and get more orders out the door and into customers' hands. We are excited about their commitment to continually improving and developing their product," said Glen Sutton, SVP Americas, Ingram Micro Commerce & Lifecycle Services.
Chuck enhancements include:
Increased capacity: up to 6 levels for a total of 43.5 ft2 / 4.0 m2 of workspace, over three times more than the other providers, handles a broad range of SKUs and a payload of up to 200 lbs / 90.7 kg.
Expanded compliance: patent-pending safety system meets international safety standards, including CE and UL1740.
Improved usability: globally recognized lighting, images, and prompts accelerates training and directs associates through their tasks.
"Our solution transforms fulfillment operations. Chuck replaces cumbersome and dangerous manual carts, eliminates long walks to receive and deliver work and improves associates' jobs. In turn, this helps companies recruit and retain the best workers," said Gillan Hawkes, 6RS' VP of Product. "Unlike traditional automation systems, ours continuously improves through over-the-air software updates and new functionality, helping our existing customers realize year-over-year productivity increases of 10% or greater."
Chuck will be featured in booth #7489 at MODEX 2020 March 9-12, in the Georgia World Congress Center. The exhibit will include an interactive picking contest and a wall-to-wall fulfillment demonstration with automated tote loading and unloading, batch picking, sortation and packing.
About 6 River Systems:
Founded in Waltham, Mass. in 2015, 6 River Systems is a leading collaborative mobile robotics fulfillment solution provider and part of global commerce company Shopify Inc. Founders Jerome Dubois and Rylan Hamilton were previously executives at Kiva Systems (now Amazon Robotics). The 6 River Systems solution is operating in more than 20 facilities in the U.S., Canada and Europe, fulfilling millions of units each week for companies including Lockheed Martin, CSAT Solutions, ACT Fulfillment, DHL, XPO Logistics, and Office Depot. To learn about 6 River Systems and its wall-to-wall fulfillment solution, please visit www.6river.com.
Featured Product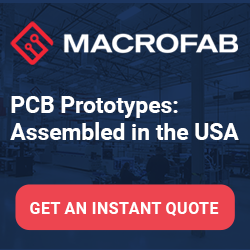 At MacroFab, we understand the challenges engineers face when searching for the perfect partner to bring their visions to life. Traditional overseas prototype factories may offer low-cost solutions but often have hidden compromises. Say goodbye to subpar quality, communication barriers, and frustrating delays - choose MacroFab for a stress-free, reliable, and professional prototyping experience.