New robots will make automation more accessible for businesses operating in dynamic indoor public spaces such as retail, warehouses, airports, malls, and more
Brain Corp, an AI company creating transformative core technology in the robotics industry, and UniCarriers Americas Corporation (UCA), one of the world's largest high-performance material handling equipment companies, today announced a technology partnership to develop autonomous material delivery robots for use in retail, warehouses, airports, and other dynamic environments. The announcement was made ahead of MODEX 2020, a major manufacturing and supply chain solution conference that will take place next week in Atlanta, Ga.

Under the partnership, UCA will license BrainOS®, a cloud-connected operating system for commercial autonomous robots, to manufacture delivery robots that can navigate safely by themselves in public and commercial spaces. UCA will initially develop the autonomous mobile robots for a large retailer that will use them to expedite labor-intensive shelf restocking within stores so that employees can concentrate on high-value tasks, such as spending more time with customers.
"This collaboration brings together a global manufacturing leader in material handling and the leader in robotic AI software to create reliable, high-performance autonomous robots that lower the barrier to automation for many businesses," said John Black, SVP of new product development for Brain Corp. "Because these robots work with existing delivery investments and do not require custom infrastructure or specialized training for employees, customers can quickly realize their value."
The delivery robots are capable of operating across a variety of complex indoor spaces, enabling the seamless transportation and delivery of goods from point to point. Users of the machine can utilize a simple and intuitive "teach and repeat" approach, allowing for easy deployment and seamless updates to delivery routes as the environment changes. Working with manufacturing partners, Brain Corp currently powers one of the world's largest fleets of autonomous mobile robots operating in public spaces.
"By partnering with a market leader like Brain Corp, we are confident that these new machines will perform safely and efficiently for our customers in the complex and dynamic environments in which they are deployed," said Brian Markison, senior director of national accounts and AGV sales for UniCarriers Americas Corporation. "We are excited to work with Brain Corp to bring this new autonomous robot to market."
To learn more about autonomous mobile robots, visit Brain Corp at booth #1013 at MODEX 2020.
About Brain Corp
Brain Corp is a San Diego-based AI company creating transformative core technology for the robotics industry. Brain Corp's comprehensive solutions support the builders of today's autonomous machines in successfully producing, deploying, and supporting robots across commercial industries and applications. Named the world's top autonomy solution provider by ABI Research, Brain Corp is funded by the SoftBank Vision Fund and Qualcomm Ventures. For more information, please visit www.braincorp.com.
About UniCarriers America
As part of a global organization that is the third largest forklift company, UniCarriers is an American manufacturer redefining reliability in the material handling industry. Their reliable forklifts are engineered to deliver maximum uptime every day. Offering high performance and a low cost of ownership, the UniCarriers lineup includes internal combustion and electric powered forklifts, pallet trucks, tow tractors, walkie-stackers, and reach trucks. UniCarriers offers unmatched warranty coverage - including the industry's best standard, limited warranty. They also offer ready access to the parts and services customers need to maximize productivity and profits through a network of factory-trained, authorized dealers throughout the western hemisphere. For more information, please visit www.unicarriersamericas.com.
Featured Product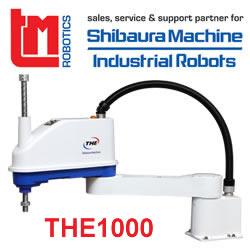 Designed for assembly and inspection applications in the electronics equipment and automobile components industries, the THE600 SCARA is a powerful automation tool. Advancing from the specifications of the existing THE400 SCARA, the THE600 has been developed to meet growing demand for fast-cycle automation. The THE600 model includes improvements in synchronised control and tracking precision. The THE600 is compact in design and offers improved high speed, with 60 per cent higher payload capacity than competing SCARA models in the same price range, making it the price-to-performance leader. Affordable price, impressive performance.