Britain's longest-running robot company, Shadow Robot is delighted to announce the appointment of John Dilworth as Solutions Consultant for their UK Head office from 16th March 2020.
UK - Britain's longest-running robot company, Shadow Robot is delighted to announce the appointment of John Dilworth as Solutions Consultant for their UK Head office from 16th March 2020.

John Dilworth brings with him over 15 years of Project Sales experience and knowledge of the nuclear industry, a key area for Shadow Robot where their advanced teleoperation technology and the world's most dexterous robot hands available on the market can be applied to safeguard nuclear operators at 0% risk.
John has worked in senior roles for companies such as Brokk UK ltd, KUKA Systems, National Centre for Nuclear Robotics and Ansaldo Nuclear (his most recent role) and has established a wealth of experience in strategy and sales within the UK's nuclear decommissioning industry.
He will have full responsibility in a newly crafted role for Shadow Robot's business development in the nuclear sector and will play a key role in meeting the company's aggressive growth goals. He will also build on the company's outstanding reputation for service and delivery of advanced robotic technology to their clients, which previously included NASA, ESA, Hitachi, GSK and Siemens.
Shadow Robot has had increasing interest from the nuclear industry particularly with the emergence of their collaborative teleoperation platform, the Tactile Telerobot (the world's first haptic telerobot hand). The company's teleoperation solutions enable operators to use humanlike robot hands, instead of their own hands or mechanical grippers, for dexterous tasks within nuclear decommissioning such as handling radioactive materials in gloveboxes.
The company has previously talked to and worked with the UK's National Nuclear Laboratory, who, in their recent "Enhanced Glovebox Operations Overview" report, describe Shadow Robot's hardware as having "a number of advantages to robotic teleoperation, both from a control and an operator's point of view."
Rich Walker, Managing Director, Shadow Robot, said: "John's sales track record, experience, and network in the nuclear industry are highly impressive and we are delighted to have him on board. Attracting people of John's calibre and expertise into Shadow Robot is a great endorsement of our strategy, ambition and commitment as we move forward to continue to capitalise on the nuclear opportunities in front of us. His skills and talent will be vital as we continue to push our world's most advanced teleoperation and robotic hands technology into the nuclear industry."
John Dilworth added: "Shadow Robot has a deserved reputation as the leading robotic technology company and experts at grasping and manipulation for robot hands. Creating world firsts with their robotic products, they have a tremendous opportunity to grow further and continue to diversify into the nuclear sector, bringing their strong business values and service delivery to match the demands and high expectations of nuclear clients. I am excited to be on board and part of the great team to help capitalise on the growth opportunities ahead."
ABOUT SHADOW ROBOT
The Shadow Robot Company is Britain's longest-running robot company (winners of the Queen's Awards 2019 under Innovation) and is experts at grasping and manipulation for robotic hands.
Shadow has worked with companies and researchers all over the world, looking at new ways to apply robotics technologies to solve real-world problems. They develop and sell the Dexterous Hand, recently used to advance research into AI (having won the AIconics Award for best innovation in AI hardware 2019), and the Modular Grasper, an essential tool for supporting industry 4.0.
The company is also a pioneer in the fast-developing fields of teleoperation and telepresence with their tactile telerobot, where the Shadow Hand is combined with sensors and controlled via a haptic glove for touch feedback. Shadow's technology is designed to take human operators out of harmful situations - such as nuclear decommissioning and bomb disposal.
The tech is also being developed for space as part of the AVATAR X programme resulting from work with ANA, making it their third collaboration with a space agency, with the first two being NASA and ESA (European Space Agency).
www.shadowrobot.com
Featured Product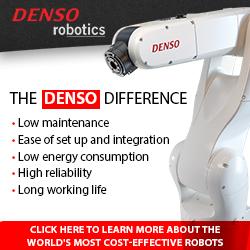 DENSO is the world's largest manufacturer - and user - of small assembly robots, employing over 17,000 of its robots in its own facilities. Over 77,000 additional DENSO robots are used by other companies worldwide. The compact, high-speed robots are used in traditional manufacturing sectors, as well as in advanced-technology applications in the medical, pharmaceutical and life sciences industries. Learn more about DENSO Robotics