High resolution meets overwhelming acceleration!
Schönaich - The extremely high dynamic of large Disc Magnet stepper motors is often also relying on closed loop control to maximize performances while limiting power dissipated in the motor. The IE3 encoder is a high quality magnetic encoder which can be combined with a large variety of FAULHABER products from Ø22mm. This encoder is now also available on DM40110R, DM52100N and DM52100R Series.

With an extended length of about 13mm this new combination will offer high positioning resolution up to 1024 lines per revolution together with extremely fast acceleration capabilities in a short and light package! The encoder is connected with a ribbon cable; suitable connectors are available.
Typical applications are found in textile, semiconductor and medical industries.
The advantages at a glance:
•Ideal for boost mode operation combined with high resolution positionning
•Programmable with resolution from 32 to 1024 lines per revolution
•Compact and light, mounted in a robust package
About FAULHABER
The FAULHABER Group offers the world's largest consolidated portfolio of miniature and micro drive system technologies available from one partner in the world today. The Group specializes in the design and manufacture of complex, high precision miniature and micro drive systems for challenging areas of application like medical devices, handling automation, telecommunications, and precision optics.
The FAULHABER brand name is known worldwide as a symbol of high quality, precision miniature drive systems, components and controls. With a technology focus on the self-supporting, skew-wound, ironless rotor, DC Motor and precision system components such as gearboxes, encoders, and motion controllers the brand name has been built around the highly competent design, manufacturing, and after sales service and support of the three founding members of the FAULHABER Group.
www.faulhaber.com
Featured Product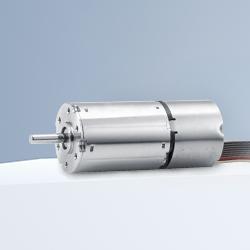 FAULHABER MICROMO launches the new MC3/MCS motion control family. The new high performance, intelligent controllers are optimized for use with FAULHABER motors, offer electronics for simple operation with state-of-the-art interfaces for multi-axis applications, and provide a motion control system solution with the most compact integration into industrial grade housing.