Industrial automation solutions pioneer Omron Automation Americas announces the release of a brand-new software package designed to simplify integration, maximize reliability and support flexibility in mobile robot applications.
Hoffman Estates, IL., March 30, 2020 - Omron Automation Americas, a global leader in industrial automation solutions, recently launched a next-generation software package for its mobile robots. Shortened as "FLOW Core", the Fleet Operations Workspace Core is designed to increase the robots' performance and ease of use while laying the foundation for future service-focused capabilities.

Among the primary advantages that FLOW Core provides are a user-focused design that simplifies integration, charge management functionality that maximizes uptime, and intelligent fleet management capabilities that increase flexibility and efficiency. As an all-in-one platform, the software boosts the navigational capabilities of individual robots while simplifying the management of robot fleets.
Omron's Enterprise Manager EM2100 will be the new hardware platform for FLOW Core's mobile robot fleet management functions, replacing the EM1100. EM2100 offers better performance as well as new capabilities to help customers commission systems more quickly for maximum efficiency.
Omron's powerful programming software for mobile robots, MobilePlanner, has also been updated with improved capabilities that provide operators with seamless robot control. As the "control center" of the Mobile Robot Software Suite, MobilePlanner's user interface has the tools for all major robot activities, including fleet observation, job assignment, and mapping.
Industry professionals interested in learning more about Omron's advanced mobile robot solutions are encouraged to visit the mobile robots solution page.
About Omron Automation
Omron Automation is an industrial automation partner that creates, sells and services fully integrated automation solutions that include sensing, control, safety, vision, motion, robotics and more. Established in 1933 and currently headed by President Yoshihito Yamada, Omron's 36,000 employees help businesses solve problems with creativity in more than 110 countries. Learn more at automation.omron.com.
Featured Product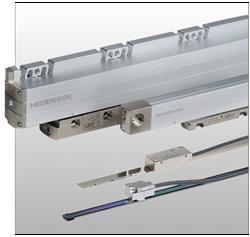 Nothing beats the positioning accuracy of linear encoders from HEIDENHAIN. Available in absolute and incremental versions and ideal for a variety of applications-including machine tools, semiconductor machines and medical machines-these measuring solutions combat a variety of issues that erode precision.