AI Gateway "no code" Inspection Plug-In significantly reduces development and deployment efforts for advanced classification, segmentation, and detection capabilities
OTTAWA, CANADA, April 15, 2020: Pleora Technologies and Neurocle today announced a technology partnership that simplifies the deployment of deep learning-based classification, segmentation, and object detection capabilities for visual inspection applications. Lead customers are evaluating the AI Gateway and Inspection plug-in developed with Neurocle to reduce errors, false-positives, and secondary screenings in packaging, pharmaceutical, and finished goods analysis applications.

"Pleora's AI Gateway and plug-in skills help organizations quickly realize the business benefits of machine learning, without costly, time-consuming algorithm development or replacing existing infrastructure," said Jonathan Hou, Chief Technology Officer, Pleora Technologies. "Working with partners including Neurocle, we're delivering a unique evolutionary approach to AI that enables quick deployment and continuous training to improve results and lower costs of visual inspection and quality control."
With the Pleora AI Gateway and Inspection Plug-in, end-users and integrators can deploy machine learning visual inspection capabilities without any additional programming. Images and data are simply uploaded to Neurocle's Neuro-T, deep learning vision software which supports a unique "Auto Deep Learning" technology with predefined parameters optimized for the NVIDIA GPU in Pleora's AI Gateway. With Pleora's "no code" approach, AI models are transferred and deployed on the AI Gateway for production environments. In comparison to this plug and play approach, traditional AI algorithm development requires multiple time-consuming steps and dedicated coding to input images, label defects, fine-tune training, and optimize models.
The AI Gateway handles image acquisition from any vision standard-compliant image source and sends out the processed data over GigE Vision to inspection and analysis platforms. This means end-users can avoid vendor lock-in while maintaining infrastructure, processes, and analysis software.
In a quality inspection application, for example, the AI Gateway intercepts the camera image feed and applies the selected Inspection Plug-in skills. The gateway then sends the AI processed data to the inspection application, which seamlessly receives the video as if it were still connected directly to the camera. Similarly, the AI Gateway can process imaging data with loaded plug-in skills in parallel to traditional processing tools. If a defect is detected, processed video from the AI Gateway can confirm or reject results as a secondary inspection.
"Neuro-T is a user-friendly approach that enables deep learning for visual inspection with just a few clicks," said Hongsuk Lee, Chief Executive Officer, Neurocle. "Developing a plug-in solution for the Pleora AI Gateway, we're making inspection systems plug and play, enabling automation for manual quality control checks and improving performance of existing systems with deep learning technology."
Pleora's AI Gateway provides additional plug-in AI skills for hyperspectral imaging, with the processing flexibility of an NVIDIA GPU to deploy open source or custom algorithms developed in popular frameworks like TensorFlow and OpenCV. For more visit https://www.pleora.com/products/artificial-intelligence/ai-gateway/.
About Pleora Technologies
Pleora Technologies invented high-performance frame grabbers and embedded hardware for the delivery of sensor data over Gigabit Ethernet, and leads the market in interfaces for USB 3.0. With this spirit of innovation, Pleora engineers reliable sensor interfaces and embedded vision gateways for system manufacturers and camera companies serving the military, medical, and industrial automation sectors. Pleora provides end-to-end solutions that shorten time-to-market, reduce risk, and lower costs. We partner with our customers and tailor products to meet their individual needs. Find out more at pleora.com.
About Neurocle Inc.
Neurocle provides a Deep Learning Vision Software used in various fields including manufacturing, medical & biology, and Security. As a group of computer vision and deep learning experts, Neurocle provides the best-performing deep learning model with Auto Deep Learning algorithm and a reduced weight, which could be integrated with a variety of platforms from embedded processor to GPU. Our products, Neuro-T and Neuro-RT provide streamlined workflow from data labeling and training to model deployment, so that even non-experts can implement the technology to their own business easily and cost-efficiently, while retaining control on the project to the fullest extent. Find out more at neuro-cle.com.
Featured Product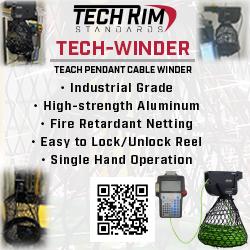 Tech-Winder is a robust solution for industrial cord management. Aluminum body, for hard impact protection. Flame retardant netting, for added protection against any sparks that may land on the cord. This industrial grade cord reel keeps your pendant cords protected and organized. Stores up to 50 meters (164 ft.) of cable in length with a diameter of 4.5 mm to 10.0 mm. Adapts to NAAMS or Modular Fencing when mounting. Help prevent your next $1,200 factory cable incident, by getting organized with Tech-Winder from Tech Rim Standards.