New Claxon-CXP4 doubles transmission speeds of previous CoaXPress standard, Offers full feature set of CoaXPress 2.0 specification
WOBURN, MA, MAY 6, 2020 -- For over two decades, BitFlow has been known for pushing the limits of what a frame grabber could do in machine vision systems. Today, BitFlow pushed those limits even further by shipping its new Claxon-CXP4, a quad CoaXPress-12 PCIe Gen 3 frame grabber that accelerates video transmission speed to 12.5 Gb/s -- or twice as fast as the current CXP 1.1 standard. Now in full production, the new frame grabber will be shipping this month and available through BitFlow's international distributor network.

"While the Claxon is not the first CXP 2.0 frame grabber on the market, it is certainly one of most stable and feature-rich, since our engineering team built the full CXP 2.0 specification into it rather than pick and choose what capabilities the customer was permitted to use," said Donal Waide, Director of Sales, BitFlow, Inc. "A machine system designer can only experience the full potential of CXP 2.0 performance by having access to all its capabilities, which they do with the new Claxon. It guarantees BitFlow customers will be thoroughly ready for the increased data demands the latest generation of high-resolution, high-speed cameras in complex high-speed industrial, military and medical applications."
Despite doubling its speed, BitFlow engineers kept the overall architecture of the Claxon-CXP4 identical to the company's previous generation Cyton CXP-6 frame grabber, allowing users to easily swap-out slower CXP 1.1 cameras with more powerful CXP-12 or CXP-10 cameras without major software changes or system downtime. It accommodates capture from up to four CXP-12 or CXP-10 cameras simultaneously, plus has high speed inputs and outputs to support an array of sensors and motion encoders. With four cables and four CXP-12 cameras, the maximum data transfer rate is 5 GB/S, the highest data acquisition rate in the industry today, even at cable lengths up to 40 meters.
By harnessing the speed of CXP 2.0, the Claxon-CXP4 accelerates uplink to 41.6 Mbps, a benefit that enables a host to send triggers to a camera at rates of 600 kHz in single trigger mode or almost 300 kHz in dual trigger mode, all without requiring a dedicated high-speed uplink cable. Performance is also improved by the frame grabber's use of Micro BNC connectors which are more robust and run at higher speeds than traditional DIN 1.0/2.3 connectors. A heartbeat packet has also been added which supports time synchronization of multiple cameras, along with the ability to host event packets so that asynchronous messages can be sent from the camera.
Adding the Claxon-CXP4 to an application is simplified by the BitFlow SDK supporting 32-bit and 64-bit operating systems, or by downloading free drivers from the company's website for 3rd party machine vision packages. Applications can be developed using C/C++/.NET and the company's sophisticated buffer management APIs. The software included with the Claxon-CXP4 is compatible with all other BitFlow frame grabbers, making the pivot from Camera Link to CXP fast and trouble-free.
For more information, please call 781-932-2900 or visit www.bitflow.com.
Featured Product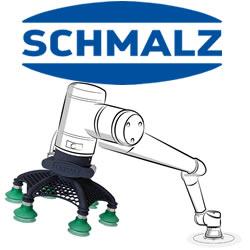 In order to interact with their environment and perform the tasks, lightweight robots, like all industrial robots, depend on tools - and in many cases these are vacuum grippers. These form the interface to the workpiece and are therefore a decisive part of the overall system. With their help, the robots can pick up, move, position, process, sort, stack and deposit a wide variety of goods and components. Vacuum gripping systems allow particularly gentle handling of workpieces, a compact and space-saving system design and gripping from above. Precisely because the object does not have to be gripped, the vacuum suction cupenables gapless positioning next to each other.