Robotics industry experts to address critical robotics business development issues through integrated series of online presentations, follow-on Q&A, and continuing media coverage and analysis.
Cleveland and Boston - May 2020 - Business-to-Business publisher WTWH Media today announced the launch of RoboBusiness Direct, an ongoing, integrated series of presentations and media coverage designed to drive robotics innovation, speed commercialization efforts and strengthen the robotics community. The RoboBusiness Direct program runs from May through July, 2020. See here for more details on all of the available sessions.

"With RoboBusiness Direct, the educational and community building aspects of the RoboBusiness Conference & Expo, the world's premier robotics business development event, are being expanded into the digital realm and beyond, to provide increased educational options, as well as extended opportunities for peer networking and business development," said Dan Kara, Vice President of Robotics at WTWH Media.
Leading Companies
RoboBusiness Direct sessions are delivered by brightest minds from the leading robotics and automation companies from around the world including Nuro, FedEx, Lockheed Martin, Samsung, Siemens and more. RoboBusiness Direct speakers will share their expertise and insights on a variety of topics in four subject areas:
• Identifying Opportunities,
• Exploiting Technologies, and
• Driving Business and Transforming Industries.
Registration Open
Registration for RoboBusiness Direct program is now open. To view the RoboBusiness Direct schedule, review speakers and session topics, or register for RoboBusiness Direct programs, visit https://webinars.on24.com/wtwh/robobusdirectseries?partnerref=RoboticsTomorrow
About WTWH Media, LLC
WTWH Media is an integrated media company serving engineering, business and investment professionals through 50+ web sites, 5 print publications, along with many other technical and business events. The "WTWH Network" includes The Robot Report, Collaborative Robotics Trends and Robotics Business Review, online technical, business and investment news and information portals focused on robotics and intelligent systems. WTWH Media also produces leading robotics conferences including the Robotics Summit & Expo (www.roboticssummit.com), RoboBusiness Conference & Exposition (www.robobusiness.com) and the Healthcare Robotics Engineering Forum (www.healthcareroboticsforum.com). See www.wtwhmedia.com for more information.
Featured Product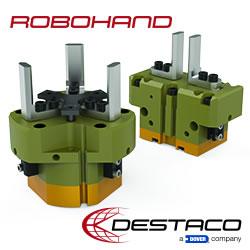 Destaco's Robohand RDH/RTH Series 2 and 3 jaw parallel grippers have a shielded design that deflects chips and other particulate for a more reliable, repeatable operation in part gripping applications ranging from the small and lightweight, to the large and heavy. RDH Series of Rugged, Multi-Purpose Parallel Grippers for Heavy Parts - Designed for high particulate application environments, automotive engine block, gantry systems, and ideal for heavy part gripping The series includes eight sizes for small lightweight to large/heavy part gripping. RTH Series of Powerful, Multi-Purpose Parallel Grippers for Heavy Parts - Designed for large round shaped parts, automotive engine block and gantry systems, and heavy part gripping. They're available in eight sizes for small lightweight to large and heavy part gripping.