Rozum Cafe is eager to offer a scalable investment to budding business owners, and the timing could not be more perfect. The offering is simple: a Rozum Cafe is designed on a platform that features a robot barista. Like its human alternative, the barista residing here brews coffees, pours them, and serves them (without a smile but with great service, nonetheless). The automated coffee station provides quick, intelligent service that offers customers an enjoyable experience without the necessity of full-time human interaction. Cafe owners will be able to run a successful coffee business while avoiding exorbitant staffing costs.
The Rozum Cafe model is centered around the star of the show: a PULSE robot arm that specializes in the art of coffee. The arm is capable of systematically producing a perfect cup of coffee every time, which is a major benefit of robotic baristas. Consisting of Servomotors and software developed by Rozum Robotics, the robot arm uses high-quality coffee equipment along with the best beans in the world to make great cups of the following coffees, every time:

• American
• American and Milk
• Cappuccino
• Espresso
• Flat White
• Latte
The systematic nature of robotics ensures consistency, a major factor in customer satisfaction. This consistency is key to producing the best tasting coffee. Consistency is combined with top of the line coffee making equipment, including the Italian-made Nuova Simonelli machines featured in each Rozum Cafe. The Rozum Robotics team consulted prize-winning barista Denis Obodets to develop the best recipes, that were ultimately programmed into the robot baristas software.
The implementation of robots in former human job roles is often slighted because of the loss of interaction. Despite the lack of personal touch or communication, the Rozum Cafe robot arm is an enormous draw in and of itself. While there is some trepidation around the mechanization of society, robots fascinate people. The Rozum Café is designed to allure visitors with its uniqueness and retain them with its quality.
A Rozum Cafe eliminates the need for costly staffing while allowing entrepreneurs the flexibility to hire as they see fit. The fear of robotization leads some business owners to shy away from employing robots in jobs previously occupied by humans. The Rozum Cafe does not require an absence of human workers but does allow for it.
The Rozum Cafe needs to be serviced and cleaned once daily. This is made possible by the reliability of an efficient robot arm. The café operates precisely, eliminating the mess you might see at other coffee shops.
Research shows that negative reviews focused on poor cleanliness will deter 85% of customers. While the quality of the coffee and efficiency of baristas is a deciding factor for most shoppers, it is important to remember that other issues also influence their opinions of your business.
The robotic environment of Rozum Cafe eliminates the possibility of a dirty shop. Rozum robot arms are programmed and designed to simply avoid making a mess. This allows your customers to enjoy getting their favorite style of great coffee without worrying about waiting for a barista to finish wiping down the counters.
For those entrepreneurs who enjoy employing a staff, Rozum Cafes can be maintained and monitored as you see fit. A Rozum Cafe is entirely capable of functioning independently outside of the daily refill servicing. However, cafe owners can hire staff to manage the cafe area or provide other forms of customer service.
The daily service requirements are minimal. A quick run-through includes filling beans, syrup, and milk. Cups and condiments should be refilled, and the grounds bags should be taken out and replaced. The machine has a self-cleaning mode, and other cleaning consists of basic emptying and wiping tasks. Café owners can take comfort in knowing that the robot barista can manage over 300 cups between servicing visits.
In a time where cleanliness and distant interactions are paramount, now is the time to introduce technology that is centered around those two things. A cup of coffee untouched by human hands has never held more value than today.
There is no required technical knowledge associated with ownership of a Rozum Cafe and the robot coffee barista business model allows for diverse deployment. There is no special training or highly skilled staffing required to run a Rozum Cafe. Each cafe is deployed with a user-friendly guide that outlines typical service needs. One employee or manager can efficiently maintain up to five cafes each day.
The Rozum Cafe is supported by a team of experts who are innovative and dedicated. The team created the robot café with an eye toward profitability and simplicity. As Rozum Robotics created the café in-house, the business is customizable to the needs of the entrepreneur.
Options abound for those interested in the Rozum Cafe model. A stock model option allows cafe owners to set up and go without any hassle. A customizable package allows entrepreneurs flexibility for their preferred branding, marketing, and sales strategies.
A Rozum Cafe can be used as a marketing tool for other aspects of your business and can be used to draw clients to your brand. The construction of the cafe offers an easy canvas to display a company logo, mission statement, or other marketing.
The robot barista can also be run as an in-house coffee option for clients, staff, or other guests. Many companies, businesses, universities, and hospitals strive to provide high-quality service to their constituents. The logistics of a robot barista cafe are perfect for the confines of small spaces lacking the square footage for a full-sized coffee shop. The Rozum Cafe is sure to please employees on a quick break, clients visiting for a sales pitch, or families of patients waiting for their loved ones.
From a physical standpoint, the construction and design could not be simpler to deploy. Installation is easy, maintenance is user-friendly, and the materials are light yet durable. The design is fitted with transparent paneling that allows your customers to view the magic as it happens. The robot barista is always on full display to ensure customers get front row seats to the show.
The Rozum Cafe need not stop at coffee. The beauty of in-house expertise means that customization is virtually limitless. Reach out to the team to discover how your far-fetched ideas could become a reality - a robot pizza kitchen, perhaps? The goal of Rozum Robotics points developers toward making robots helpful to business owners. The possibilities are limited only by imagination and entrepreneurial spirit. Simply put, the Rozum Cafe is capable of going anywhere and being anything.
Deploying a team of three standard Rozum Cafes should result in a positive ROI within nine months. The standard café consists of software, hardware, coffee machinery, and a robot barista. Variables impacting ROI include café location, marketing, and the primary purpose of the café.
The consistent theme pulsing through every aspect of Rozum Cafes is their flexibility. The robot barista coffee café represents an opportunity for entrepreneurs to be creative in their approach. Yet, the product and system are simple enough to approach it from a "plug and play" business plan. Simply set up the cafés and watch the robot baristas bring in the revenue.
As mentioned earlier, the Rozum Cafe is intended to be flexible in its deployment. This means that the ROI is variable based on its general purpose. The cafes can be used to strictly sell coffee, as a marketing tool for a larger piece of your business, or as a convenience item that increases the satisfaction toward your company.
Most leading POS systems are compatible with the Rozum Cafe. This makes management easy from near or far. Each cafe is equipped with two high-quality cameras that make monitoring for security and management purposes simple. These features further the opportunity to deploy multiple cafes for a faster ROI and make ownership as stress-free as possible.
The Rozum Robotics company, developers of the Rozum Cafe, want to make robots useful and enjoyable members of daily life. The café is a prime example of robots helping humans obtain the dream of owning a business and pouring a great cup of coffee.
ABOUT ROZUM CAFE COMPANY
Rozum Robotics company developed the Rozum Cafe in-house. The diverse team is united around a goal to make robots a positive part of day-to-day life. Rozum believes that people are better working alongside robots, especially when those robots take on mundane tasks that hinder human creativity. The Rozum Robotics company is inspired by their goal, which led to the development of the Rozum Cafe.
For information about the Rozum Cafe experience, visit https://cafe.rozum.com/ or contact the robot barista experts at robot.cafe@rozum.com. With a focus on improving the daily interactions between robots and their human counterparts, Rozum Robotics hopes to make Rozum Cafe a step toward bringing the two sides together.
Featured Product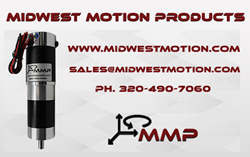 MMP specializes in supplying high-quality Brushed & Brushless DC Motors & Gearmotors for Robotics and Automation Equipment with a wide range of motor windings and gear ratios. With an impressive track record of more than 8,000 released DC Gearmotors designs and over 2,000,000 individual part numbers, we are renowned for our ability to handle large-scale orders. Due to our huge on-hand inventory, we are also well known for lightning-fast delivery of our standard products. We take pride in our dedicated customer service and our team of knowledgeable sales and engineering experts who are ready to assist you with custom design solutions tailored to your specific application. Additionally, we also offer a wide range of complimentary products, such as DC Motor Controls, DC Linear Actuators, AC-DC power Supplies, and DC Servo Amplifiers and others.