With virtual demonstrations offered now, the test facility enables customers to see the flexible, safe and easy-to-deploy AMRs in action prior to beginning manufacturing, warehouse or other e-commerce operations, speeding deployment and saving time and money
LAWRENCE, Mass.—June 23, 2020—AutoGuide Mobile Robots today announced the virtual opening of a test facility in Lawrence, Massachusetts, that will enable potential customers to see a wide range of modular, high-payload autonomous mobile robots (AMRs) operating in a live environment. Companies considering AMRs for their manufacturing, warehouse or other e-commerce-related distribution applications can virtually visit the test facility now—with the facility opening for onsite visits following Massachusetts' phased re-opening guidelines—to see how the flexible, safe and easy-to-deploy AMRs would work in their own facilities. By identifying and addressing opportunities and challenges prior to investing in equipment or breaking ground on their own sites, end users will be able to integrate robotic solutions more quickly and consequently get their own tailored solutions to market faster.

"This new test center enables our customers to look under the hood and see various robots in operation moving higher payload materials in a real-life setting—prior to buying," said Rob Sullivan, president & CEO, AutoGuide Mobile Robots. "Through the Lawrence Test Center, we'll be able to work more closely with these customers to ensure efficient transitions from product development to new product introduction to customer deployments. As a result, our teams can deliver products to market faster and with a greater focus on the challenges facing our customers. It's another step in ultimately ensuring our customers' success as they optimize their logistics overall, ultimately reducing their payback period and increasing ROI."
Enabling the benefits associated with the Lawrence Test Center becomes even more critical as AutoGuide continues to expand its product portfolio into new and diverse markets. For instance, as e-commerce continues to grow, the Lawrence Test Center will play an integral role in delivering zone and each picking product lines to customers. "With the opening of the center, we can now better aim our new advanced high-payload industrial AMRs towards solutions that are most impactful for customers," Sullivan added.
Modular, High Payload AMRs in Test Center and Next Week at MODEX
AutoGuide's AMRs use a patent-pending modular and flexible design, which means companies don't need to purchase completely different systems for different applications. At the test center, in addition to trying out different robots, including its Max-N15 and Max-N10 tuggers and Max-N pallet stackers, they can test various modules that let the robots be used for different applications targeted at specific challenges, such as transforming a tugger into an autonomous forklift and back again.
About AutoGuide Mobile Robots
AutoGuide Mobile Robots designs, develops and manufactures high-payload industrial autonomous mobile robots (AMR) for assembly, manufacturing, warehousing and distribution operations across multiple industries. AutoGuide's Max-N10 and N15 modular AMR platforms are the industry's most reliable and affordable natural feature guidance platforms with a growing number of application-specific configurations available, including tuggers, conveyor decks, car movers and pallet stackers. AutoGuide has a mobile robot R&D center located in Chelmsford, MA and a manufacturing facility in Georgetown, KY. The company was acquired by Teradyne in November 2019. For more information, please visit AGMobileRobots.com
Featured Product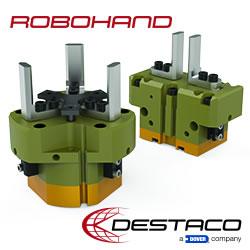 Destaco's Robohand RDH/RTH Series 2 and 3 jaw parallel grippers have a shielded design that deflects chips and other particulate for a more reliable, repeatable operation in part gripping applications ranging from the small and lightweight, to the large and heavy. RDH Series of Rugged, Multi-Purpose Parallel Grippers for Heavy Parts - Designed for high particulate application environments, automotive engine block, gantry systems, and ideal for heavy part gripping The series includes eight sizes for small lightweight to large/heavy part gripping. RTH Series of Powerful, Multi-Purpose Parallel Grippers for Heavy Parts - Designed for large round shaped parts, automotive engine block and gantry systems, and heavy part gripping. They're available in eight sizes for small lightweight to large and heavy part gripping.