"Under One Roof" approach to drive customer satisfaction, operational efficiencies and service delivery goals
TUV Rheinland of North America, a leader in testing, inspection and certification, today announced the expansion of its Excellence Center Program in the United States to support Product Testing. "Under One Roof" is being implemented as the next step in the company's overall growth strategy and in an effort to continue streamlining operations and providing a better overall customer experience.

The "Under One Roof" effort began in 2017 with the opening of the Wireless & IoT Excellence Center in Fremont, CA and has expanded over the last three years. The program's goal is simple: Become the best service delivery company in the industry.
In order to realize this program TÜV Rheinland, in line with their overall strategic growth plan in the region, moved areas of expertise under the same roof at their facilities across the US. Jonathan Kotrba, Vice President of Products for the Americas says, The "Under one Roof" program will drive operational efficiencies, increase overall customer satisfaction, and help TUV to realize our service delivery goals. He adds, "We are confident that our growth strategy will lead to us offering higher levels of service and enhancing our partnership with our clients."
TÜV Rheinland Product Testing Excellence Centers include:
• IoT/Wireless Excellence Center - Fremont, CA
• Product Safety and EMC Excellence Center - Pleasanton, CA
• Product Safety Excellence Center - Littleton, MA
• EMC Excellence Center - Webster, NY
• Furniture and Retail Excellence Center - Kentwood, MI
• Chemical and Environmental Excellence Center - Bentonville, AR
About TÜV Rheinland
TÜV Rheinland is a global leader in independent inspection services, founded over 145 years ago. The group maintains a worldwide presence of more than 20,000 people. TÜV Rheinland inspects technical equipment, products and services, oversees projects, and helps to shape processes and information security for companies. Its experts train people in a wide range of careers and industries. To this end, TÜV Rheinland employs a global network of approved labs, testing and education centers. Since 2006, TÜV Rheinland has been a member of the United Nations Global Compact to promote sustainability and combat corruption.
Featured Product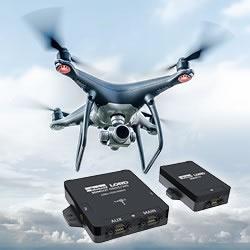 The new complete inertial navigation solution comes with GNSS/INS 3DMGQ7 sensor, 3DMRTK correction modem and real time SensorCloud RTK correction network. The sensor comes with Dual antenna GNSS, tactical grade IMU with centimeter-level accuracy with RTK. Low profile and light weight at 78 grams, this sensor is The sensor is optimized for size and weight in Unmanned Ground Vehicles, mobile robots and autonomous vehicles. The network interface 3DMRTK modem is seamlessly integrated into the 3DMGQ7 sensor supports industry-standard NMEA and RTCM 3.1 protocols. The network RTK support comes with cellular data plan. The SensorCloud RTK is a cloud-based RTK correction system with private encrypted data stream. Check out our G Series and C Series OEM products.