Delivering industry-leading servo performance and functional safety, Platinum servo drives address today's most demanding applications
Elmo Motion Control, a leading manufacturer of innovative motion control technologies, today announced the commercial launch of its new, cutting-edge Platinum series servo drives, featuring the most advanced servo functionality and functional safety available today.

A natural evolution of Elmo's award-winning Gold line, the new line is designed to meet OEMs' growing needs for safer, smarter, smaller and faster servo drives with higher functionality. It provides an unmatched solution for applications requiring the highest-quality motion, in medical, robotics, material handling, semiconductor, laser processing, printing, and inspection, and for other applications in various industries.
The Platinum line features ultra-fast EtherCAT networking and processing, delivering faster cycling and higher synchronization, with negligible jitters and near-zero latency. The higher processing power enables faster data handling, a larger memory and an endless real-time recorder, supporting high performance applications.
Additionally, Platinum servo drives hold the highest-level functional safety certifications (IEC 61800-5-2 SIL-3, Cat4 PL-e), and have a comprehensive set of smart functional safety features, including over-the-network safety and optional rich safety I/Os, supported by Elmo's advanced safety software. The Platinum line includes one of the world's smallest Functional Safety and Functional Safety over EtherCAT (FSoE)-certified servo drives.
"The new Platinum line empowers manufacturers to design and produce machines that are very safe for users and the environment and also optimize machine performance," said Haim Monhait, CEO of Elmo Motion Control. "Our smart functional safety features dramatically reduce the need for external safety components, streamlining machine safety certification. With Platinum servo drives, our customers can manufacture smaller and safer machines, with lower costs and shorter time to market."
The Platinum line includes the acclaimed Platinum Quartet, introduced last year, which has already won awards for innovation and best product from Modern Manufacturing and Control Engineering China, respectively.
Platinum servo drives are now commercially available worldwide. For more information and orders, please contact your local representative.
Featured Product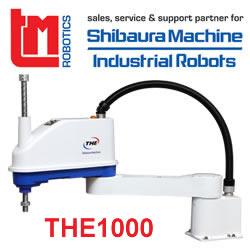 Designed for assembly and inspection applications in the electronics equipment and automobile components industries, the THE600 SCARA is a powerful automation tool. Advancing from the specifications of the existing THE400 SCARA, the THE600 has been developed to meet growing demand for fast-cycle automation. The THE600 model includes improvements in synchronised control and tracking precision. The THE600 is compact in design and offers improved high speed, with 60 per cent higher payload capacity than competing SCARA models in the same price range, making it the price-to-performance leader. Affordable price, impressive performance.