Universal Robots' new regional sales director will continue the development of the company's high-growth sales and distribution business in the United States and Canada
Ann Arbor, MI, September 24, 2020: Universal Robots (UR) - North America today announced the appointment of Bryan Bird as Regional Sales Director for the U.S. and Canada. Based in St. Louis, MO, Bird brings 20+ years of experience in industrial automation to UR, most recently as Vice President of Sales at TerraSource Global and Kollmorgen Corporation.

"Bryan Bird has a proven track record in the industry; spearheading strategic initiatives, successfully building up sales channels and expanding them internationally. We're excited to have him lead the North American team into the next growth phase," says Mathias Wiklund, Head of Global Sales at Universal Robots.
Bird, who has a degree in Mechanical Engineering from Purdue University, has also developed markets and accounts at Danaher Motion and GE Fanuc. "Collaborative robots are the future of automation and I'm excited to join such an innovative and rapidly growing company," says UR's new regional sales director. "Joining UR and its parent company Teradyne allows me to be a part of an enterprise that highly values its customers, business partners, and especially the associates. While I will be focused on sales and marketing activities in the US and Canadian markets, the global scale of the company will allow me to regularly collaborate with colleagues from around the world."
Bird is responsible for the North American P&L, including sales, marketing and customer service, and UR offices in Irvine, CA; Dallas, TX; Garden City, NY; and the North American headquarters in Ann Arbor, MI.
About Universal Robots
Universal Robots (UR) was founded in 2005 to make robot technology accessible to all by developing small, user-friendly, reasonably priced, flexible collaborative robots (cobots) that are safe to work side by side with people. Since the first cobot was launched in 2008, the company has experienced considerable growth with the user-friendly cobot now sold worldwide. The company, which is a part of Teradyne Inc., is headquartered in Odense, Denmark, and has regional offices in the United States, Germany, France, Spain, Italy, UK, Czech Republic, Poland, Hungary, Romania, Russia, Turkey, China, India, Singapore, Japan, South Korea, Taiwan and Mexico. In 2019, Universal Robots had a revenue of USD 248 million. For more information, please visit www.universal-robots.com.
Featured Product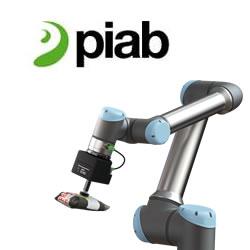 Piab's Kenos KCS gripper enables a collaborative robot to handle just about anything at any time. Combining Piab's proprietary air-driven COAX vacuum technology with an easily replaceable technical foam that molds itself around any surface or shape, the gripper can be used to safely grip, lift and handle any object. Standard interface (ISO) adapters enable the whole unit to be attached to any cobot type on the market with a body made in a lightweight 3D printed material. Approved by Universal Robots as a UR+ end effector.