These new blue laser line profilers are designed for precision 3D scanning of shiny materials (e.g. machined-metal surfaces) and offer a range of wide fields of view for applications in various key markets such as EV battery, consumer electronics, and rail
September 29, 2020, Vancouver, BC - LMI Technologies (LMI), a leading developer of 3D scanning and inspection solutions, is pleased to announce the release of blue laser Gocator® 2430/2440/2450 BLUE LASER line profile sensors. The latest addition to LMI's popular 2400 series, these new BLUE LASER models are optimized for 3D scanning of shiny metal surfaces in electric vehicle (EV) battery inspection, rail inspection (rail geometry), small to medium-size electronic and automotive parts, and general factory automation applications. The 2400 series also offers several RED LASER models for optimal performance and maximum flexibility in your scanning applications.

Due to its shorter wavelength, blue laser light performs better than red or green lasers when scanning specular surfaces. BLUE LASER generates "cleaner" profiles (i.e., less laser speckle) on shiny targets, allowing it to achieve higher measurement accuracy as a result. For example, Gocator® 2450 BLUE LASER sensors are able to deliver high-quality 3D scan data of train rails even in full sunlight and when the track ballast is wet.
These sensors are ideal for customers who need to perform:
Battery cell pre-assembly inspection (Electrode Width Gauging, Electrode Edge Profile Measurement, Tab Distance Gauging)
Battery cell assembly inspection
Flat and cylindrical battery surface inspection
Rail geometry inspection
And a range of general factory automation applications
Gocator® 2430/40/50 BLUE LASER models feature the latest 2-megapixel imaging technology, custom embedded processor, and optimized optics that allow for fast inspection rates (up to 5 kHz) and increased sensitivity in handling reflective targets.
"These three new line profilers add high sensitivity blue laser scanning to the 2400 series. Offering a balance of speed, high resolution data, and wide fields of view, customers can achieve precision 3D scanning and inspection of shiny surfaces with the most cost-effective sensor setup possible," said Terry Arden, CEO, LMI Technologies.
The Gocator 2430/40/50 BLUE LASER line profilers come in a IP67-rated industrial housing offering all-in-one functionality, including web-based user setup, built-in 3D visualization, drag and drop measurement tools, and communication protocols that are unmatched in the 3D sensor market.
Blue laser Gocator® 2430/2440/2450 BLUE LASER line profilers are now available for order at orders@lmi3d.com. For more details visit the Gocator 2430/40/50 product page.
About LMI Technologies
As the global leader in 3D scanning and inspection, LMI Technologies works to advance quality and productivity with 3D sensor technology. Our award-winning, FactorySmart® laser, snapshot, and line confocal sensors improve the quality and efficiency of factory production by providing fast, accurate, reliable inspection solutions that leverage smart 3D technologies. Unlike contact based measurement or 2D vision, our non-contact solutions add 3D shape information that is critical to achieving 100% quality control.
To learn more about how LMI's inspection solutions can benefit your business, we invite you to contact us at contact@lmi3d.com or visit us at www.lmi3d.com to explore the possibilities of smart 3D technology.
Featured Product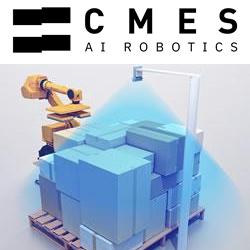 Powered by AI, CMES Robotics enables 3D vision for factory robots. CMES AI vision software enables robots to recognize unstructured, flexible, or deformed objects, pick them up, and loading and unloading. CMES Vision software has been deployed worldwide for random palletization and depalletization along with void filling applications. CMES Robotics automates your warehouse, logistics, and supply chain. For more information, please visit: cmesrobotics.com or email info@cmesrobotics.com.