In-house product trials give users confidence in selecting an automated material removal solution.
Whether automating a manual deburring or finishing process for the first time, or working to optimize your process for higher throughput, it's important to utilize the right tool or tools for the job. ATI's Product Testing Services eliminates the uncertainty of a new automated venture, and gives users confidence that the ATI solution will perform to expectations. ATI's Product Testing Services define the best tools and programming parameters for the application to jump-start implementation.

ATI's Material Removal Product Testing Services offer high levels of flexibility and customization for users of any experience level. ATI Material Removal experts work closely with your team to determine testing objectives, potential solutions, process constraints and requirements. ATI then selects the appropriate testing methods and deliverables to verify the customer's process. At the conclusion of the trials, users receive specific product recommendations, detailed reports of the testing results, as well as guidance for integrating the solution.
Features and Benefits include approachable and affordable proof of concept testing designed to support new and experienced users and customizable testing protocols that allow customers to define project scope, objectives and communication frequency. This service also provides verification of new processes as well as proven product and programming recommendations which helps realize process improvements without additional downtime.
Featured Product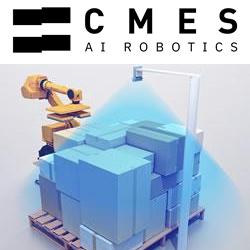 Powered by AI, CMES Robotics enables 3D vision for factory robots. CMES AI vision software enables robots to recognize unstructured, flexible, or deformed objects, pick them up, and loading and unloading. CMES Vision software has been deployed worldwide for random palletization and depalletization along with void filling applications. CMES Robotics automates your warehouse, logistics, and supply chain. For more information, please visit: cmesrobotics.com or email info@cmesrobotics.com.