This challenge brings together MassRobotics' partners and the community in a unique way that highlights how robots can seamlessly integrate into the systems and environments that shape our lives.
BOSTON, MA / ACCESSWIRE / October 6, 2020 / MassRobotics and Analog Devices have once again teamed up to offer the Real-Time Sensor Fusion Challenge 2.0. The challenge looks for the next innovative robotics team to bring context awareness to a series of real-life applications through sensors.

Building off the success of last year's challenge, MassRobotics is seeking university and startup robotics teams to demonstrate enhanced real-time context awareness (using two or more sensors) in the following categories:
Automation (factory or building)
Mobility (ground or air vehicles)
Wellness
Open category (sensor fusion cyber-physical systems)
This challenge brings together MassRobotics' partners and the community in a unique way that highlights how robots can seamlessly integrate into the systems and environments that shape our lives. From sensor and component developers to suppliers and end users, last year's collaborators included Analog Devices, ArrowPlus, FedEx, Mitsubishi, SICK and Solidworks.
"The Sensor Fusion Challenge is a unique opportunity for collaboration between startups, university students and industry experts to create innovative robotics solutions for real-world applications," said Ralph McCormick, system applications engineer, Analog Devices. "We are excited to help innovators utilize our partner technologies and ADI's broad base of solutions in measurement, sensing, actuation, power and communications in diverse robotics applications."
"As a college student, this challenge was a great experience," said Dhruv Kool Rajamani, a 2019 Sensor Fusion Challenge participant from Worcester Polytechnic Institute. "Integrating the Analog Devices sensors into our system allowed us to prototype the project with far greater ease and speed than we would have ever been able to without it."
After a review of submissions due by October 19, 10 qualified teams will be down-selected and receive a $2.5K budget in addition to donated hardware from participating partners. Milestones and checkpoints will be implemented before a finale showcase in May where the winner will receive $25K.
"Last year's challenge was a great reminder of how the community can come together and rally support for various robotics teams," said Joyce Sidopoulos, co-founder and VP of programs, MassRobotics. "The finale in May showcased many inventive solutions and highlighted the reason why Massachusetts is the hub of robotics innovation. We're looking forward to seeing what unique solutions teams come up with this year."
Teams around the world are encouraged to submit their proposals by October 19. This year's challenge projects will be judged virtually.
More information about this year's challenge can be found here: https://bit.ly/3kZAbOE
Highlights from the last year's challenge can be viewed here: https://bit.ly/30iGBjE
About MassRobotics
MassRobotics is the collective work of a group of Boston-area engineers, rocket scientists and entrepreneurs. With a shared vision to create an innovation hub and startup cluster focused on the needs of the robotics community, MassRobotics was born. MassRobotics' mission is to help create and scale the next generation of successful robotics and connected device companies by providing entrepreneurs and innovative robotics/automation startups with the workspace and resources they need to develop, prototype, test and commercialize their products and solutions. www.massrobotics.org
About Analog Devices
Analog Devices is a leading global high-performance analog technology company dedicated to solving the toughest engineering challenges. We enable our customers to interpret the world around us by intelligently bridging the physical and digital with unmatched technologies that sense, measure, power, connect and interpret. Visit http://www.analog.com.
Featured Product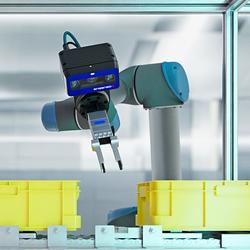 IDS NXT: a platform for a new generation of vision systems for industrial applications. It lays the groundwork to provide easy-to-use yet flexible complete systems that can be used to implement all steps of a vision solution. With IDS NXT ocean, a complete solution especially for AI-based image processing is now available. It allows to solve tasks where classic, rule-based image processing has reached its limits - without any programming effort.