Datakit provides Lesage Motors with a license of CrossManager to allow it to import files in STEP format to SolidWorks. The editor thus intends to help a small structure which is embarking on automobile manufacturing with thermal and electric versions of a small roadster dedicated to the pleasure of driving.
In a sought-after mobility market, the birth of a new car manufacturer in France is a real event. Certainly Lesage Motors is not a general car maker, but a niche manufacturer who favors the pleasure of driving, by offering small roadsters typically in the lineage of the Morgan and other Lotus Seven/Caterhams, dear to our British cousins.

"I want to offer light, dynamic and sporty vehicles that provide real driving pleasure," explains Bertrand Lesage. And he knows what he's talking about, having been involved in the design of competition vehicles for almost 20 years. (See our sidebar) But this time the challenge is different. It is about designing and manufacturing a small sports vehicle intended for the consumer, while remaining within an affordable budget of less than 65 k €. The goal is to manufacture 50 per year in France and sell them from 2021 throughout Europe where they are approved. Note that it will be possible for buyers to participate in the assembly of their own vehicle.
Thermal and electric versions
Embracing the motto of Colin Chapman, the famous founder of Lotus, "Light is right", he decided to adopt aluminum for the structure which consists of bent, riveted or glued sheets. Two engines are available. The thermal 01T, based on a Peugeot 225 hp engine found on the Peugeot 308 and 508 ranges. It propels this 650 kg car at 170 km / h. The other electric 01E, couples a permanent magnet synchronous motor of 100 kW (136 hp) with a 50 kWh battery from the same source, thus offering this 950 kg vehicle a top speed of 150 km / h and a range of 340 km.
The running gears use steel and aluminum double wishbone suspensions designed by Lesage Motors, the hubs, discs and brake calipers being standard parts on the market.
The bodywork is made of composite materials, which offers both lightness and freedom of style. In fact, Lesage Motors, who works with an exterior designer, intends to offer a different bodywork every two years. In addition, the customer, in conjunction with the designer, will be able to tailor the decoration of his bodywork, as well as his upholstery and rims.
The first prototypes are currently being validated and mass production should begin in early 2021.
A small racy and elegant roadster which is offered in thermal and electric versions for less than 65 k €.
A small racy and elegant roadster which is offered in thermal and electric versions for less than 65 k €.
Import STEP files
It is the integration of external components and engines, as well as working with partners, that requires the import of 3D files in STEP format into SOLIDWORKS.
"I quickly noticed that the STEP import tool in SOLIDWORKS 2020 was slow and especially that it allowed errors (seams of non-contiguous surfaces, intersections of surfaces, etc.). Having already had the opportunity to use Datakit's tools in my career, I turned to CrossManager. I use it to translate the STEP files to the Parasolid format (the format used by the SOLIDWORKS modeler), which is much faster, both for converting and opening the files. In addition, I can run CrossManager stand-alone and continue to work with SOLIDWORKS, although the integrated module did not allow it".
A significant gain when we know, for example, that an engine represents 80 to 280 MB of data depending on its level of detail. CrossManager is also used to exchange data with specialists in structural design, as well as electrical schematics.
Thanks to the use of CrossManager, Lesage Motors can better focus on its core business, designing vehicles that provide real driving pleasure, without having to worry about transferring and converting data.
For more information:www.lesagemotors.com & https://www.datakit.com
A motorsport enthusiast
Bertrand Lesage
After a DUT in Mechanical Engineering in 1998, Bertrand Lesage obtained an engineering degree from CESTI Supméca in 2002. Passionate about motorsport since childhood, he joined Tork Engineering where he participated in the design and manufacture of competition vehicles. An adventure that he will continue with KB Concept and Cabsicum, before creating Lesage Motors in 2018 and presenting his first prototypes this year.
A partnership around an original project
"We found Bertrand Lesage's project to be both nice and cheeky, which is why we decided to support him. Indeed, launching itself now as a car manufacturer is a magnificent challenge which requires a lot of daring and self-sacrifice. But I have complete confidence in him, because I know him well for having been in the same class as him during our engineering studies", explains Damien Richard, application and support engineer at Datakit.
Datakit provides a free Cross Manager license to Lesage Motors and relies on cross communication around this original project to increase its notoriety.
CrossManager: convert as you want
Available formats in CrossManager
CrossManager is a stand-alone data converter supporting 36 different formats, standard or proprietary, in reading and 28 different formats, standard or proprietary, in writing.
Each input or output format requires its own license to operate. You can order a custom configuration by purchasing only the formats you need.
Two types of licenses are offered:
The fixed license, which operates on a single workstation;
The floating license, installed on a license server, in order to be able to use CrossManager on different workstations.
For more information : https://www.datakit.com/en/cross_manager.php
Featured Product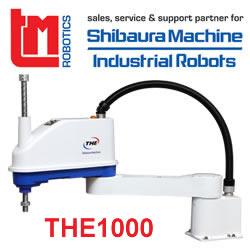 Designed for assembly and inspection applications in the electronics equipment and automobile components industries, the THE600 SCARA is a powerful automation tool. Advancing from the specifications of the existing THE400 SCARA, the THE600 has been developed to meet growing demand for fast-cycle automation. The THE600 model includes improvements in synchronised control and tracking precision. The THE600 is compact in design and offers improved high speed, with 60 per cent higher payload capacity than competing SCARA models in the same price range, making it the price-to-performance leader. Affordable price, impressive performance.