The fulfillment solution provider is recognized for technology excellence and customer impact by industry analysts
6 River Systems (6RS), part of leading global commerce company Shopify Inc., has been recognized as a 2020 SPARK Matrix™ Leader by Quadrant Knowledge Solutions for its fully-automated collaborative robot, Chuck. 6RS was named a top performer and technology leader in the study of 12 key vendors in the global autonomous mobile robot market.

According to the analysts in the SPARK Matrix study, the primary differentiators for 6RS includes its value proposition of offering quick ROI by working collaboratively with warehouse operators to eliminate long walks, leveraging cloud-based algorithms to manage work in real-time for reduced steps in between tasks and using a patented and directed workflow that guide operators through the most efficient paths of the fulfilment center, simplifying its usage with minimal training. 6RS received strong overall ratings across the parameters of the technology excellence and the customer impact and emerged as the technology leader in the 2020 SPARK Matrix analysis.
"We are honored to be recognized as a leading autonomous mobile robotics vendor by Quadrant Knowledge Solutions," said Jerome Dubois, Co-Founder & Co-CEO, 6 River Systems. "This year, 6 River Systems focused on making significant investments in our software and hardware to accelerate our product roadmap, which allowed us to meet the increased demand resulting from the COVID-19 pandemic. As we continue to expand our capabilities, it's affirming to see our core solution - Chuck - stand out as a leader in the market."
Quadrant Knowledge Solutions conducted an in-depth analysis of major autonomous mobile robot vendors by evaluating their products, market presence and value proposition. The evaluation is based on the primary research with expert interviews, analysis of use cases, and Quadrant's internal analysis of the overall AMR market.
According to Akshaysingh Chandel, Analyst at Quadrant Knowledge Solutions, "6 River Systems, with its innovative collaborative robot with comprehensive functional capabilities, robust software system, and wall to wall fulfilment solution, is well-positioned to improve order fulfilment efficiencies while enhancing workforce productivity. The company is gaining significant market traction amongst mid-sized to large organizations and posting above-average market growth. The 6 River Systems fulfilment solution extends beyond picking to include inventory replenishment, sorting, packing, and shipping capabilities," adds Akshaysingh.
For more information about 6 River Systems, please visit https://6river.com/
To view the full Quadrant Knowledge Solution analysis, please visit SPARK Matrix™: Autonomous Mobile Robot (AMR), 2020.
About 6 River Systems:
Founded in Waltham, Mass. in 2015, 6 River Systems is a leading collaborative mobile robotics fulfillment solution provider and part of global commerce company Shopify Inc. Founders Jerome Dubois and Rylan Hamilton were previously executives at Kiva Systems (now Amazon Robotics). The 6 River Systems solution is operating in more than 20 facilities in the U.S., Canada and Europe, fulfilling millions of units each week for companies including Lockheed Martin, CSAT Solutions, ACT Fulfillment, DHL, XPO Logistics, and Office Depot. To learn about 6 River Systems and its wall-to-wall fulfillment solution, please visit www.6river.com.
About Quadrant Knowledge Solutions:
Quadrant Knowledge Solutions is a global advisory and consulting firm focused on helping clients in achieving business transformation goals with Strategic Business and Growth advisory services. At Quadrant Knowledge Solutions, our vision is to become an integral part of our client's business as a strategic knowledge partner. Our research and consulting deliverables are designed to provide comprehensive information and strategic insights for helping clients formulate growth strategies to survive and thrive in ever-changing business environments. For more available research, please visit https://quadrant-solutions.com/market-research/
Featured Product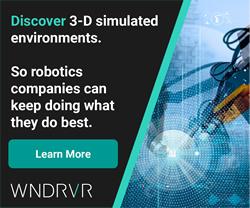 Build and deploy robust, reliable, and secure Linux-based robotic systems without the risk and development effort associated with roll-your-own (RYO) in-house efforts. With Wind River Linux get the industry's most advanced embedded Linux development platform, with a comprehensive suite of products, tools, and lifecycle services to help robotic manufacturers build the next-gen robotic systems. Your robot wants it!