CRX-Ready End-Effector Kits include everything needed to get FANUC CRX cobot applications up and running. In addition to the end-effector, the kit features all the hardware and software required for system connection.
APEX, N.C. January 21, 2021 - ATI Industrial Automation has developed CRX-Ready End-Effector Kits, providing FANUC CRX cobot users a simple and effective way to increase the flexibility of collaborative robotic automation. These all-in-one packages include robust options for automatic tool changing, force sensing, and material removal, and enable tasks such as assembly, machine tending, part inspection, surface preparation and others to be implemented and executed easily.

CRX-Ready End-Effector Kits include everything needed to get FANUC CRX cobot applications up and running. In addition to the end-effector, the kit features all the hardware and software required for system connection. Within the teach pendant are simple controls to program the equipment and simplify complex tasks, and through just a few programming adjustments the ATI end-effectors can be easily repurposed and adapted for future applications.
The CRX-Ready Kits are currently available for the following end-effectors:
• The QC-7 Robotic Tool Changer, ATI's newest standard robotic tool changing and storage solution. This lightweight yet durable tool changer offers a variety of configuration options with ATI's Pass-Through Utility Modules and Tool Stand systems.
• ATI's MC-10 Manual Tool Changer, which makes changing tools by hand affordable and effective. The MC-10 features a patented locking mechanism and an ergonomic design that includes tactile click as well as a visual indicator of Lock/Unlock status.
• The AOV-10 Axially-Compliant Orbital Sander, the ideal robotic solution for surface preparation and finishing. With built-in compliance, the AOV-10 is well-suited for many different robotic application types—even those that require a light touch.
• The Compliant Deburring Blade (CDB), a motorless deburring tool for operations such as edge deburring, chamfering, countersinking, scraping and deflashing on virtually any material. As the cutting media removes material, the compliance allows for consistent results despite variation in part size, part positioning, or robot location.
• ATI's RCV-250 Radially Compliant Deburring Tool, designed for the removal of flash and parting lines, as well as edge deburring from a variety of materials. The robust RCV-250 has integrated compliance and adjustable cutting force which simplify programming and enable a consistent finish.
• The Axia90 Force/Torque Sensor, a high-performance, low-cost sensor that measures all components of force and torque. The Axia90 offers the highest resolution, accuracy, and stiffness available and gives your cobot responsiveness to sense and adapt to its environment.
For more information about CRX-Ready End-Effector Kits, visit www.ati-ia.com/CRX.
About ATI Industrial Automation
ATI Industrial Automation is the world's leading engineering-based developer of robotic accessories and robot arm tooling including Robotic Tool Changers, Multi-Axis Force/Torque Sensing Systems, Utility Couplers, Manual Tool Changers, Robotic Deburring Tools, Robotic Collision Sensors and Compliance Devices.
ATI's robotic end-effector products are found in thousands of applications around the world. Manufactured entirely in the USA, ATI products enable customers to achieve a high level of flexibility in robotic automation. Their flagship product is the Robotic Tool Changer, a robotic wrist coupling that locks and unlocks automatically, allowing a single robot to perform many different tasks. ATI products can be found at some of the world's most renowned corporations and organizations including NASA, Ford, Honda and Johns Hopkins University. For more information, visit ATI at: www.ati-ia.com.
Featured Product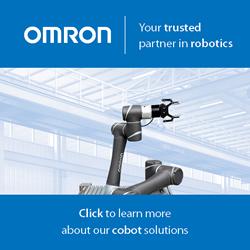 Humans and robots can now share tasks - and this new partnership is on the verge of revolutionizing the production line. Today's drivers like data-driven services, decreasing product lifetimes and the need for product differentiation are putting flexibility paramount, and no technology is better suited to meet these needs than the Omron TM Series Collaborative Robot. With force feedback, collision detection technology and an intuitive, hand-guided teaching mechanism, the TM Series cobot is designed to work in immediate proximity to a human worker and is easier than ever to train on new tasks.