• More than 400 attendees benefit from technology update and knowledge transfer • Many opportunities to interact, thanks to fascinating hands-on formats • Virtual networking and discussion a great success
Munich, February 4, 2021 - February 3 was the big day: MVTec Software GmbH (www.mvtec.com), a leading provider of standard machine vision software, presented its informative, annual Innovation Day in digital format for the first time. More than 400 attendees from over 190 companies, 33 countries, and five continents benefited from brand-new information on innovative technologies and the latest machine vision trends, such as deep learning, embedded vision, and 3D vision. The experts also spoke about the performance, particular highlights, and new features of the standard software HALCON and MERLIC. MVTec broadcast the event live from a professional streaming studio in the heart of Munich, with partners and guest speakers patched in.

Interviews and video chats with experts
The content was offered vividly in a wide range of interactive and virtual formats. In addition to attending fascinating presentations by MVTec experts and guest speakers from SICK AG and MSTVision GmbH as well as interviews and demonstrations streamed in real time, the participants also had the opportunity to get actively involved. They were able to reach out to presenters and other experts and ask questions in group video chats or 1:1 video meetings via the event portal. For example, the attendees were able to discuss special software topics with MVTec developers and take part in polls and surveys in real time. Many online visitors also took the opportunity to chat and network with each other during breaks and in the evening. Not least, there was a virtual exhibition room, where partners such as aku.automation GmbH, attentra GmbH, KEYENCE DEUTSCHLAND GmbH, and SICK AG showcased interesting examples of industry applications.
Lively discussions with customers and partners
"Under the given circumstances, the digital format proved to be an enormous success for the MVTec Innovation Day, our most important event of the year. The large number of attendees and positive feedback demonstrated that our customers and partners enjoy a lively discussion even in the virtual world and that the showcased innovations offer visible added value for customers," remarks a pleased Dr. Olaf Munkelt, managing director, co-founder, and co-owner of MVTec Software GmbH.
About MVTec Software GmbH
MVTec is a leading manufacturer of standard software for machine vision. MVTec products are used in all demanding areas of imaging: semiconductor industry, surface inspection, automatic optical inspection systems, quality control, metrology, as well as medicine and surveillance. By providing modern technologies such as 3D vision, deep learning, and embedded vision, software by MVTec also enables new automation solutions for the Industrial Internet of Things aka Industry 4.0. With locations in Germany, the USA, and China, as well as an established network of international distributors, MVTec is represented in more than 35 countries worldwide. www.mvtec.com
Featured Product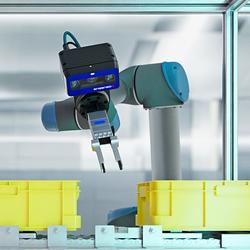 IDS NXT: a platform for a new generation of vision systems for industrial applications. It lays the groundwork to provide easy-to-use yet flexible complete systems that can be used to implement all steps of a vision solution. With IDS NXT ocean, a complete solution especially for AI-based image processing is now available. It allows to solve tasks where classic, rule-based image processing has reached its limits - without any programming effort.