Top global robotics teams named for inventions including telerobotics for remote control of medical equipment and automated disinfection
London, United Kingdom, 4th February 2021-The EPSRC UK-RAS Network, organisers of the annual UK Robotics Week, is pleased to announce the winners of its inaugural Medical Robotics for Contagious Diseases Challenge 2020, recognising the outstanding innovation of leading global robotics research teams in developing solutions to tackle the COVID-19 health crisis and future global pandemics.

The three winners in each category were unveiled at a virtual award ceremony held today, with each winning team receiving prize money of £5000 generously donated by The Wellcome Trust and Intuitive Surgical.
The winners and runners-up are:
Best Application
'UVC-PURGE: A Semi-autonomous Virus Disinfection Robot' by the team at Military Institute of Science & Technology (MIST).
Runner Up: 'Teleoperated wheelchair with isolation hood' by the team at Amrita Viswa Vidyapeetham (Amrita University).
Best Innovation
'Telerobotics for Remote Control of Medical Equipment in Contagious Environments' by the team at Johns Hopkins University.
Runner Up: 'Towards Affordable Soft Robotic Bronchoscopy' by the team at Imperial College London and Institut Teknologi Bandung.
Best Design
'An Intelligent Robotic System for Automated Precision Disinfection in Public Spaces' by the team at Leeds University.
Runner Up: 'A master-slave robotic system for both endotracheal intubation and bronchoscopy for the treatment of COVID-19' by the team at Tianjin University.
This unique challenge attracted 21 entries from 13 countries - Bangladesh, China, Colombia, Germany, India, Indonesia, Iran, Israel, Mexico, Pakistan, Uganda, UK and USA - and the winners were decided, from a shortlist of 17 exceptional submissions, by a prestigious judging panel, including Professor the Lord Darzi of Denham, Co-Director of IGHI, Professor of Surgery at Imperial College London, UK; Simon Di Maio, Director, Research at Intuitive Surgical, USA; Prof. Russell H. Taylor, John C. Malone Professor at John's Hopkins University, USA; and Dr. Thomas Neff, Manager Software Medical Robotics at KUKA Deutschland GmbH, De.
The competition - which was run as part of the EPSRC UK Robotics & Autonomous Systems (UK-RAS) Network's annual UK Robotics Week celebrations - took place entirely online, offering flexibility for remote working during the pandemic.
Professor Robert Richardson, Chair of the EPSRC UK-RAS Network commented: "The engagement of the world's leading robotics researchers with this Challenge has been nothing short of incredible, and the quality of the entries we received really underscore the vital contribution that is being made by robotics platforms during this pandemic in delivering solutions for the global community. The entire UK-RAS team and our superb judging panel offer our congratulations to the winners, runners-up, and all the teams who took part in this unique competition, which is going to provide an important launchpad for pandemic response innovations as we look beyond the immediate crisis to addressing future public health challenges."
The UK Robotics Week is being revamped this year. The network plans to launch a 3-month Robotics Summer Showcase to run from May to July this year, which will feature events aimed at engaging academics, industry and other stakeholders within the RAS community. Nestled within the Summer Showcase programme, a 7-day UK Robotics Festival will run from 19th - 25th June with a focus on public-facing events.
The EPSRC UK-RAS Network was established in 2015 with the aim of bringing together academic centres of excellence, industry, government funding bodies and charities, to strategically grow the UK-RAS research base, acting as a portal to interface with industry and deliver technological advances for translational impact.
Visit http://www.ukras.org for further information
Ends -
Notes
Videos of the winners and runners-up entries are available for media use, on request.
A highlight video compilation of the 17 shortlisted entries is available now on the EPSRC UK-RAS YouTube Channel: https://www.youtube.com/watch?v=vrH1XW_pVxY
About the ESPRC UK-RAS Network (https://www.ukras.org/)
The EPSRC UK Robotics and Autonomous Systems Network (UK-RAS Network) provides academic leadership and expands collaboration with industry while integrating and coordinating activities at EPSRC funded RAS capital facilities, Centres for Doctoral Training (CDT) and partner universities. Since its foundation, the UK-RAS Network has helped transform the UK-RAS research landscape, bringing cohesion to the research base, enhancing capital facilities across the country, supporting education programmes and public engagement activities at all levels.
Twitter: @UKRobotics
Instagram: @UKRobotics
YouTube: UK Robotics TV
PRESS CONTACT for EPSRC UK-RAS Network:
Nicky Denovan
EvokedSet
Email: nicky[at]evokedset[dot]com
Mobile: +44 (0)118 3282782
Featured Product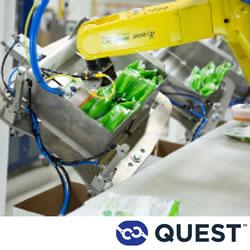 Quest is a leading manufacturer of industrial automation equipment focusing on robotics and vision-guidance. With expertise in the food, beverage, and dairy, Quest optimizes floor space for customers experiencing growing demand and helps improve their overall production line flexibility and efficiency. Quest offers application-specific software on their robotic products, including pick and place, case packing, and palletizing systems to simplify system setup and streamline configurability. Quest is a product brand of ProMach, a global leader in packaging line solutions.