Company releases next generation Autonomous Mobile Robot able to carry more materials faster than any other heavy-class AMR on the market
OTTO Motors, a leading provider of autonomous mobile robots (AMRs) for material handling, today announced that it has launched the next generation of its market-leading heavy-class AMR. The new AMR -- OTTO 1500 -- is designed to autonomously move pallet-scale loads up to 1900 kg (4,189 lbs.) through busy factories and warehouses. With a top speed of two meters per second, OTTO 1500 swiftly and safely delivers more payload than any other AMR in its class; making it the most productive AMR on the market.

OTTO 1500 defined the heavy-class AMR category when first introduced in 2015. It has since been deployed in Fortune 500 factories around the world, accumulating over one million hours of mission-critical material handling experience. The new OTTO 1500 builds upon this field-proven foundation and is once again defining the standard for heavy-class AMRs.
"Maximizing productivity in material handling is really about moving more materials, faster. The new OTTO 1500 has been designed to provide the highest throughput; all without compromising safety," said Jay Judkowitz, OTTO Motors' VP of Product. "We analyzed every detail affecting AMR productivity and challenged ourselves to do more. We developed a patent-pending adaptive safety fieldset that improves average vehicle speed. We've designed superchargers to minimize time spent charging. We even made maintenance faster with easy access panels. Every detail of the OTTO 1500 has been crafted to maximize productivity."
OTTO 1500, along with its small and mid-sized counterparts OTTO 100 and OTTO 750, are operated by the company's industry-leading control software that has over three million hours of driving experience.
"Innovative companies are taking the leap and building their factories of the future right now," said OTTO Motors Chief Executive Officer and co-founder Matt Rendall. "OTTO fleets are helping make this possible as we install some of the world's largest AMR fleets globally. Our new OTTO 1500 benefits from nearly a decade of continuous improvement and harnesses the full potential of our autonomous control software. OTTO 1500 will accelerate the factory of the future even further."
Unlike manual pallet jacks and forklifts, the OTTO 1500 is an always-on AMR that safely moves the heaviest payloads with speed, safety, and agility in dynamic environments. OTTO 1500 is most commonly used to connect existing automated processes, such as connecting machining centers, welding cells, packaging cells, palletizers, or stretch wrappers.
"OTTO is the best AMR that I've worked with; ensuring the right materials are delivered safely and efficiently every time. OTTO has exceeded our expectations and phase two of implementation is already underway to expand our fleet," said Tony Margiotta, President of Sunview Patio Doors.
The new AMR builds upon the proven and trusted OTTO 1500 chassis and powertrain. The company has overhauled the control system to use only off-the-shelf industrial components, each selected for improved reliability, to maximize uptime. OTTO Motors offers comprehensive fleet service plans to help ensure peak performance of the AMRs and a global network of certified partners for lifecycle fleet management.
"At Mauser Packaging, we are continually innovating our processes and technology to improve our productivity. OTTO has become a trusted partner in helping us automate our material handling, building great products as well as enabling us to maintain, service and upgrade our fleet as our needs evolve. That type of support is really unmatched," said Corporate Automation Engineer Wojciech Tymczak for Mauser Packaging. "Because they've been in the market now for so many years, they understand the challenges and needs we face and so we're excited to see things like the ability for the next generation OTTO 1500 to fit in tighter spaces without sacrificing productivity or safety."
About OTTO Motors
OTTO Motors provides autonomous mobile robots for material handling inside manufacturing facilities and warehouses. OTTO is trusted for mission-critical deliveries in the most demanding of industrial environments. Customers include some of the world's most recognized brands, including GE and Toyota. For more information, visit www.ottomotors.com, contact us at sales@ottomotors.com or call us at 1-844-733-6886.
Featured Product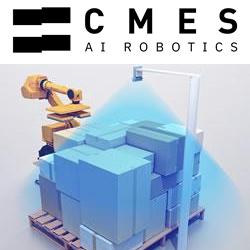 Powered by AI, CMES Robotics enables 3D vision for factory robots. CMES AI vision software enables robots to recognize unstructured, flexible, or deformed objects, pick them up, and loading and unloading. CMES Vision software has been deployed worldwide for random palletization and depalletization along with void filling applications. CMES Robotics automates your warehouse, logistics, and supply chain. For more information, please visit: cmesrobotics.com or email info@cmesrobotics.com.