"MATCH" cooperation project with an extensive range of functions and universal interfaces
"It's a MATCH" ‒ not only is this true of the first cooperation project between handling technology specialists Zimmer Group and J. Schmalz GmbH, it is also what the collaborative project is called. MATCH is a multi-functional end-of-arm platform that is fit for the future. Equipped with an extensive range of functions and universal communication interfaces, MATCH is compatible with all common lightweight robots and conventional robots on the market. With the MATCH platform, these two technology leaders in their respective areas ‒ Zimmer Group with a focus on mechanical grippers, Schmalz with vacuum-based technologies ‒ combine the best of both gripping worlds. "This collaboration created something unique: a modular system that the customer can use to meet various requirements and handle diverse applications in robotics," says Achim Gauß, Managing Director of Zimmer Group. "Furthermore, in addition to their accumulated solution knowledge, both companies offer a global sales network for support and service," says Dr. Kurt Schmalz, Managing Partner of the J. Schmalz GmbH.

Multi-faceted system - Countless application areas
Whether mobile and collaborative robotics or fully automated applications, just one flexible system gives the user access to a nearly unlimited range of uses from production and assembly to warehouse logistics, shipping and even laboratory automation. MATCH is very easy to install. The system can be mounted to the robot flange and set up conveniently with just a few manual adjustments. Configuration is intuitive and extremely easy thanks to support from joint digital services. The quick-change system features various interfaces. In addition to a compatible mechanical interface, a pneumatic/vacuum connection and electrical interfaces are provided. This variety of technological options makes it possible to use many different robot types with a wide variety of end effectors.
Manual and automated quick-change function
The compact quick-change module provides two quick and easy ways to swap a component. In addition to an automated exchange in a storage station, known as the gripper station, exchanging by hand is also possible within seconds. Thanks to the ergonomic click system - integrated on the end effector being changed - it is possible to carry out a manual change with just one hand. At the same time, this prevents the exchange module from falling.
Smart ecosystem - Intuitive software
Zimmer Group and Schmalz have their own ecosystem that the user can use for countless digital services. In addition to the SCM communication module (master gateway), the user also has two other tools at their disposal: the intuitive guideZ setup software for further configuration of the gripper and Schmalz Connect Suite for diagnostics of IO-Link devices in the cloud. MATCH guarantees full support and process control - from commissioning to ongoing operation and process monitoring.
Advantages of MATCH at a glance
► A system for lightweight robots, cobots and conventional robots
► Automated exchange in the device
► Manual exchange with easy-click function
► Large variety of end effectors
► Compatibility and flexibility - combining the primary handling technologies (vacuum and mechanical gripping)
► Innovative digital ecosystem
► Long service life, even in automated continuous operation
Featured Product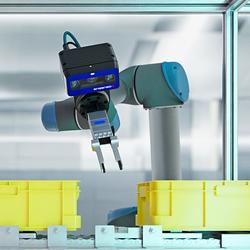 Combining the ease of use of a webcam with the performance and reliability of an industrial camera? The uEye XC autofocus camera from IDS Imaging Development Systems proves that this is possible. Its high-resolution imaging, simple setup and adaptability make it an invaluable tool for improving quality control and streamlining workflows in industrial settings - especially for cases where users would normally employ a webcam. The uEye XC autofocus camera features a 13 MP onsemi sensor and supports two different protocols: USB3 Vision, which enables programmability and customization, and UVC (USB Video Class). The UVC functionality enables a single cable connection for easy setup and commissioning, while delivering high-resolution images and video. This makes the uEye XC camera an ideal option for applications that require quick setup and need to manage variable object distances. Additional features such as digital zoom, automatic white balance and color correction ensure precise detail capture, which is essential for quality control.