Supply & Demand Chain Executive, the only publication covering the entire global supply chain, selected Meili Robots as a recipient of the Top Supply Chain Projects Award for 2021.
COPENHAGEN, DENMARK (June 16, 2021) - Supply & Demand Chain Executive, the only publication covering the entire global supply chain, selected Meili Robots as a recipient of the Top Supply Chain Projects Award for 2021.

At Meili Robots, we are on a mission to elevate the traditional supply chain and logistics industry by eliminating interoperability pain points. Our universal fleet management system — Meili FMS — opens up new levels of automation in warehouses and manufacturing spaces by bridging the gap between different types and brands of robots. Our solution is easy to integrate with any ERP-type system and ensures that robots that operate in the same environment can communicate with each other and work collectively.
Thanks to tremendous growth in the robotics industry, supply chains are becoming more aware of the benefits of automation — especially in warehouses. As a result, more users are diversifying their fleets to serve different operational processes. Manufacturers currently supply their robots with their own fleet manager, which means that robots in diverse fleets cannot communicate with each other. This leads to collisions and delays in operations, which, in turn, creates an inefficient, costly, and unsafe work environment. That is why there is a need for a universal, third-party solution like Meili FMS that can tackle the pain points of interoperable robot fleets.
The Top Supply Chain Projects (formerly known as SDCE 100) spotlights successful and innovative transformation projects that deliver bottom-line value to small, medium and large enterprises across a range of supply chain functions. These projects show how supply chain solutions and service providers help their customers and clients achieve supply chain excellence and prepare their supply chains for success.
"The supply chain industry has been challenged with a host of supply chain disruptions over the last year. Yet, the winners on this list continued to re-tool and innovate," says Marina Mayer, editor for Supply & Demand Chain Executive and Food Logistics. "Whether it be moving a customer to a cloud-based solution or implementing a more sustainable shipping option, these top supply chain projects reflect the supply chain industry's strength and resilience to overcome disruptions and work better, smarter and more efficiently in the years ahead."
Go to www.sdcexec.com to view the full list of all 2021 Top Supply Chain Projects winners.
About Supply & Demand Chain Executive
Supply & Demand Chain Executive is the only supply chain publication covering the entire global supply chain, focusing on trucking, warehousing, packaging, procurement, risk management, professional development and more. Go to www.SDCExec.com.
About Meili Robots
Meili Robots provides a universal fleet management system for mobile robots - Meili FMS. The solution enables operators to collate their fleet onto one platform, regardless of their types or brands. This guarantees maximised efficiency and operational safety.
Our fleet management system can be seamlessly integrated with all enterprise resource planning (ERP) systems. Key features include fleet management, task allocation, traffic control, and mapping. For more information about our product and its features, please visit www.meilirobots.com.
Featured Product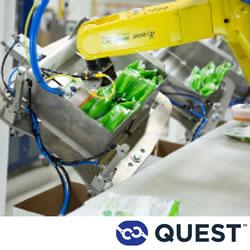 Quest is a leading manufacturer of industrial automation equipment focusing on robotics and vision-guidance. With expertise in the food, beverage, and dairy, Quest optimizes floor space for customers experiencing growing demand and helps improve their overall production line flexibility and efficiency. Quest offers application-specific software on their robotic products, including pick and place, case packing, and palletizing systems to simplify system setup and streamline configurability. Quest is a product brand of ProMach, a global leader in packaging line solutions.