Company helps end-users apply RobOps principles to orchestrate the use of autonomous mobile robots at scale across vendors
MOUNTAIN VIEW, Calif. - July 21, 2021 - InOrbit Inc. the world's leading cloud-based robot operations (RobOps) platform, today announced the InOrbit Platform is fully compatible with robots that implement the recently announced MassRobotics AMR Interoperability Standard and is helping robotics companies become standard-compliant. The standard allows autonomous vehicles of different types to share information about their robot(s) speed, location, direction, health, tasking/availability and other performance characteristics.

InOrbit has joined MassRobotics as a member and has already made contributions to the standard, which is available as an open source project. In addition, InOrbit released open source components to help other companies become standards compliant. Support for additional interoperability standards such as VDA-5050 is already in the works, making it effortless to connect robots to the cloud. Any compliant robot can connect to InOrbit for fleet-wide visibility and management, offering companies deploying robots the ability to orchestrate the work of large numbers of AMRs regardless of robot vendor.
"At InOrbit, our mission is to maximize the potential of every robot through RobOps best practices and technology," says Florian Pestoni, CEO and co-founder of InOrbit. "Third-party logistics, parcel delivery and warehouse operators need to orchestrate robots performing different tasks, and interoperability across robot vendors is one piece of that puzzle. Now customers can connect any compatible robot to the InOrbit cloud." As a founding member and supporter of the Robot Operations Group, a community of industry experts dedicated to advancing RobOps best practices, InOrbit's Pestoni is a leading voice in this nascent field.
"MassRobotics released this standard to help move the industry to the next level and we welcome different implementations and uses of the standard that can facilitate successful robotics implementations," said Joyce Sidopoulos, co-founder and VP of MassRobotics.
Besides making contributions to the MassRobotics AMR Interoperability Standard, InOrbit has implemented the ability to connect robots that support the MassRobotics-AMR-Sender protocol to the InOrbit cloud platform without the need to install any additional software on the robots. This allows manufacturers and adopters of compliant AMRs to benefit from RobOps best practices, including conducting operational monitoring of a diverse fleet within minutes, tracking robots' health and incidents in real-time, leveraging integration with incident management platforms, and understanding behavior with the recently released Time Capsule capability.
In addition, InOrbit has released an open source, configuration-based ROS2 package for sending MassRobotics AMR Interop Standard messages to compliant receivers. Robot developers can now make ROS2 robots compatible and connect to any MassRobotics AMR Interop receiver, including but not limited to InOrbit, using publicly available packages and a custom configuration file.
These efforts to advance open source and interoperability across robots are a key part of the company's vision to drive radical productivity improvements to enable humans to reach new heights.
Explore the open source project code:
https://github.com/MassRobotics-AMR/AMR_Interop_Standard/pull/6/files
About InOrbit
Headquartered in Mountain View, Calif., InOrbit is bridging the autonomy gap through a cloud-based robot-agnostic management platform that enables robotics companies and operators to develop, deploy and orchestrate autonomous robots at global scale. InOrbit's multi-cloud platform provides secure, real-time analytics and data collection, robot performance monitoring (RPM), incident management, and remote interventions. Key investors of InOrbit include ANIMO Ventures, Yamaha Motor Ventures & Laboratory Silicon Valley, and Kärcher New Venture. For more information, please visit www.inorbit.ai.
Featured Product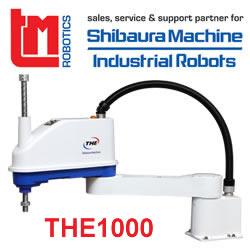 Designed for assembly and inspection applications in the electronics equipment and automobile components industries, the THE600 SCARA is a powerful automation tool. Advancing from the specifications of the existing THE400 SCARA, the THE600 has been developed to meet growing demand for fast-cycle automation. The THE600 model includes improvements in synchronised control and tracking precision. The THE600 is compact in design and offers improved high speed, with 60 per cent higher payload capacity than competing SCARA models in the same price range, making it the price-to-performance leader. Affordable price, impressive performance.