New products include WiBotic's first passively cooled onboard charger, two transmitters that use the latest gallium nitride (GaN) technology from GaN Systems for maximum efficiency, and more
Seattle, WA | WiBotic, a Seattle company that specializes in advanced charging and power optimization solutions for the rapidly expanding ecosystem of aerial, mobile, marine, space and industrial robots, today introduced several new cutting-edge chargers and transmitters for drones and autonomous mobile robots. The products showcase WiBotic's expertise in innovating efficient charging solutions for robots that operate in all sorts of environments, even under the harshest conditions.

Specifically, these new products include:
• OC-262 onboard charger. The OC-262 is a passively cooled onboard charger that was developed as a ruggedized system for the Department of Defense, but is now being released for wider use in response to customer demand. Passive cooling is particularly beneficial in punishing environments where water, dust, dirt and corrosion are significant concerns, and the OC-262 offers considerable benefits to customers operating in the oil and gas, mining, construction, marine exploration and agriculture industries.
Providing up to 300W of power, the OC-262 has no moving parts, supports all common robot battery chemistries, and pairs with a weatherproof receiver antenna for a complete outdoor solution.
Two models of the OC-262 are now available:
• An ST model with IP20 rating for applications that require passive cooling but can be more open to the environment.
• A WP model with IP67 rating for use in outdoor or extreme environments.
• OC-150 onboard charger. Designed for UAVs and smaller robots, the OC-150 is a compact and lightweight onboard charger that delivers up to 150W of total power and up to 10A of current depending upon battery voltage. As with other OCs, it supports multiple battery chemistries and has an output voltage range of 9V to 58.5V.
• TR-150 transmitter. A compact transmitter, the TR-150 uses the latest high-efficiency GaN transistors from WiBotic partner GaN Systems Inc. It is designed primarily for use with the new OC-150 onboard charger but supports all WiBotic OCs when deployed in diverse robot fleets. Delivering up to 150W of power, its new GaN-driven power amplifier has an exemplary 95% efficiency - leading to end-to-end wireless power system efficiencies of 85% or more.
• TR-300 transmitter. Like the TR-150, the TR-300 is a compact wireless power transmitter using GaN Systems' technology for maximum efficiency. The TR-300 offers the same core benefits as the TR-150 but delivers up to 300W of power when paired with WiBotic's OC-262 or OC-301 onboard chargers.
Paul Wiener, VP of Strategic Marketing at GaN Systems, congratulated WiBotic on the announcement: "These new products are just as exciting for GaN Systems as they are for WiBotic. We continue to believe the market for high-power wireless charging systems is going to explode in the coming years and companies like WiBotic are going to lead the way through the use of GaN technology."
At the AUVSI Xponential show in Atlanta, GA, August 17-19th, WiBotic is also demonstrating an innovative new use for onboard chargers. As drone service providers will attest, it can be difficult to keep track of individual battery health when large collections of diverse batteries are manually charged for repetitive field use. When used with WiBotic's new Commander Fleet Energy Management software, lightweight WiBotic OCs can now track and report on individual battery charge cycles, termination voltage, charge rate (amps), and other critical factors that determine how a battery will perform day-to-day.
"When it comes to power delivery for autonomous drones and mobile robots, it's crucial to innovate with new technologies such as GaN to maximize efficiency," said Ben Waters, CEO at WiBotic. "These new products not only push that technical envelope but are also designed to survive in the most extreme operational conditions. And when used together with WiBotic software, they now let operators track and optimize the performance of individual batteries within large and diverse collections - whether charging is performed manually or fully autonomously."
About WiBotic:
WiBotic provides autonomous charging and fleet energy management solutions for the rapidly growing ecosystem of aerial, mobile, marine, space and industrial robots. Its products help companies optimize the uptime of robot fleets and are an integral component of fully autonomous robotic operations. WiBotic works with companies in a variety of industries. For more information, please go to: www.wibotic.com
Featured Product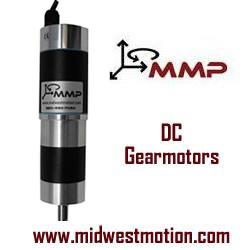 MMP is well known for our Lightning-Fast Delivery Capability, Huge On-Hand Inventory, High Volume Capacity and Time Tested and Proven Reliability Methods. Our 100+ years of combined work experience and being able to deliver continual committed service to design and engineer ideas into reality gives us a competitive advantage in the motion control industry. If you need a sample right away, we can be a project-saving convenience for you, so contact us today!!