Using Velodyne Puck™ Sensors, Renu Robotics Revolutionizing Vegetation Management for Solar Energy Facilities
Velodyne Lidar, Inc. (Nasdaq: VLDR, VLDRW) today announced a multi-year agreement to provide its Puck™ lidar sensors to Renu Robotics, an industry leader in autonomous vegetation management systems. Renu Robotics' Renubot, a fully autonomous, all-electric mower, helps solar and energy facilities cut costs, time and carbon emissions, while maintaining the grounds for maximum performance of the facility.

Renu Robotics selected the Puck after a competitive product review. The company found that Velodyne's Puck offered superior quality, reliability and performance, including significantly less system interference for optimal positional accuracy. Velodyne's sensors are highly efficient in power consumption, which extends the range of Renubot and advances its sustainability features.
The Renubot is equipped with Puck sensors for safe, efficient high-precision navigation and to avoid obstacles when conducting utility-scale vegetation management. The mower uses the lidar to navigate the site, along with real-time kinematic (RTK) GPS correction which enables vehicle positional accuracy within 2 cm. Renubot leverages artificial intelligence (AI) and machine learning for autonomous command and control, and to learn and assess the topography as it conducts highly precise mowing and grooming of facility grounds.
"Velodyne's Puck sensors provide an essential ingredient for our robotic autonomy and navigation," said Michael Blanton, Renu's Chief Technical Officer. "The power-efficient sensors enable the Renubot to deliver an automated vegetation management system that is repetitive and reliable to keep facilities operating at peak performance, while controlling costs."
"With its sophisticated, sustainable-to-operate autonomous mower, Renu Robotics is revolutionizing the way solar and energy companies conduct vegetation management," said Laura Wrisley, VP of North America Sales, Velodyne Lidar. "The innovative Renubot demonstrates how Puck sensors power precision and safety in autonomous vehicles, operating without human intervention. Renu Robotics is a prime example of Velodyne delivering on its mission to improve safety and sustainability in communities worldwide."
Velodyne Puck sensors provide rich 3D computer perception data that allows real-time localization, mapping, object detection, classification and tracking to support safe navigation and reliable operation. The Puck is a small, compact lidar sensor that delivers 100-meter range. Its reliability, power-efficiency and surround view make it an ideal solution for affordable low speed autonomy applications.
About Renu Robotics
Renu Robotics is developing new innovations in autonomous technology. The Renubot is its first all-electric fully autonomous vehicle in the field with several others planned. Renu Robotics continues to develop innovations in artificial intelligence, situational awareness via sensors and other technology. While currently serving the renewable energy industry, Renu Robotics expects to be performing in a spectrum of other industries in the future. For more information, visit www.renubot.com.
About Velodyne Lidar
Velodyne Lidar (Nasdaq: VLDR, VLDRW) ushered in a new era of autonomous technology with the invention of real-time surround view lidar sensors. Velodyne, the global leader in lidar, is known for its broad portfolio of breakthrough lidar technologies. Velodyne's revolutionary sensor and software solutions provide flexibility, quality, and performance to meet the needs of a wide range of industries, including autonomous vehicles, advanced driver assistance systems (ADAS), robotics, unmanned aerial vehicles (UAV), smart cities and security. Through continuous innovation, Velodyne strives to transform lives and communities by advancing safer mobility for all. For more information, visit www.velodynelidar.com.
Featured Product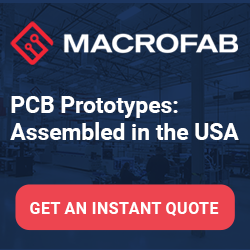 At MacroFab, we understand the challenges engineers face when searching for the perfect partner to bring their visions to life. Traditional overseas prototype factories may offer low-cost solutions but often have hidden compromises. Say goodbye to subpar quality, communication barriers, and frustrating delays - choose MacroFab for a stress-free, reliable, and professional prototyping experience.