The joint solution is designed to enable a deeper understanding of the flows on industrial and warehouse floors, to support the easy integration of AMRs on work floors and optimize their activity.
Neve Ilan, Israel/Mountain View California, October 12, 2021: 634AI, the developers of MAESTRO, an AI-enabled control tower for streamlining the management of industrial indoor mobility, has announced a collaboration with InOrbit, a cloud-based management platform for robot operations at scale. The joint solution is designed to enable a deeper understanding of the flows on industrial and warehouse floors, to support the easy integration of AMRs on work floors and optimize their activity.

MAESTRO is an AI powered centralized Control Tower that enables effective and harmonized indoor operations, from tracking of raw material movements and real time safety alerts for man driven vehicles, to navigation and fleet management of AMRs. With MAESTRO, customers can gain a real time panoptic view of their industrial floor to better understand the activity and coordinate the operations effectively and safely.
InOrbit provides a cloud-based platform for robot operations (RobOps), allowing companies to improve the efficiency of their fleet while focusing on their unique differentiators. The platform provides secure robot connectivity, data observability, low latency messaging to trigger actions, and data analytics for continuous robotics improvement.
The partnership is the debut of 634AI's cutting-edge technology to the U.S. market. 634AI will provide InOrbit with an additional layer of data to improve their offering to customers by enabling better management of robotic fleets with a greater awareness and understanding of their environment.
634AI will also use its partnership with InOrbit to access raw data on AMRs in its fleets, such as vehicle type and battery charge level. This collaboration supports the company's vision of providing an AMR and space agnostic system for the holistic management of work floors.
Onn Fenig, CEO of 634AI, said: "We are excited to be partnering with InOrbit to deliver a comprehensive and holistic solution for industrial floor management, using data analytics and AI. InOrbit's agnostic approach to the management of heterogeneous fleets of autonomous mobile robots resonates well with our MAESTRO's 'safer, smarter' philosophy of indoor mobility orchestration. We found InOrbit team's vision of solving real human problems identical to ours, as both companies' motivation is to develop cutting edge solutions that will ultimately enable humans to undertake more humane jobs".
Florian Pestoni, CEO of InOrbit, said: "This collaboration is a significant step for companies to scale their robot fleets from hundreds to thousands through the use of RobOps best practices. 634AI provides us with a unique and highly valuable layer of data. We look forward to working together to help companies turn to automation. With a trustworthy RobOps platform, small-to-medium manufacturers can experience the many benefits of industrial automation and scale up their businesses."
ENDS
About 634AI
634 AI was founded to enable organizations greater resilience and business continuity in an ever-changing world. The company is driven by a mission to simplify industrial mobility and allow safer, smarter operations - for everyone, everywhere. It developed MAESTRO, a proprietary, AI-powered control tower that streamlines management of anything mobile on an industrial floor.
MAESTRO gives superpowers to the most ordinary industrial space. It's top-down visibility enables customers a fully coordinated operation of anything mobile - be it track and trace movements of goods and equipment, real time safety alerts for man driven vehicles, or navigating fleets of generic autonomous mobile robotic platforms, all through a unified and flexible modular system, with greater safety, at an affordable price.
634 AI is on a mission to make a safer and smarter industrial mobility - from the industrial floor to the airport terminal, the warehouse floor or the hospital floor, and beyond.
About InOrbit
InOrbit is a distributed, cloud-based RobOps (robot operations) platform that enables teams deploying robots to move faster, and scale up efficiently. InOrbit provides a platform that simplifies robot connectivity, data observation, robots and processes optimization, diverse robot fleet orchestration and efficient fleet operations. It provides a full range of APIs that allow for easy integrations with existing systems and a set of dashboards and widgets to help engineers and operations teams develop and operate robotics solutions.
Featured Product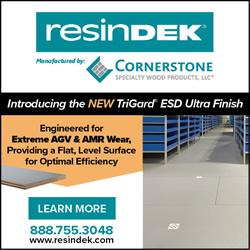 To maximize the productivity of an autonomous mobile robot (AMR) or automatic guided vehicle (AGV) deployment, it's critical to create the optimal environment that allows the vehicles to perform at their peak. For that reason, Cornerstone Specialty Wood Products, LLC® (www.resindek.com) created the TriGard® ESD Ultra finish for its ResinDek® engineered flooring panels. The TriGard ESD Ultra finish is ideal for high-traffic robotic applications characterized by highly repetitive movement patterns and defined travel paths.