Embedded bearings provide excellent stiffness and decrease installation efforts up to 70%-
SCHAUMBURG, IL (October 2021) - HEIDENHAIN's new MRS encoder module series for robot arms has been expanded and is now available with redesigned embedded bearings to better withstand outside tilting forces. This new compact and all-inclusive design also significantly simplifies the installation process.

The new MRS 2280 and 2281 encoder modules have been specifically designed for use in tilting and rotary axes with high tilting rigidity bearings, making them ideal for measuring arms and measuring robots. Overall, the MRS 2200 series provides options with an easily mountable ultra-compact design, system accuracy of ±10", and tilt resistance of up to 52 Nm/mrad tilt resistance.
Such as with HEIDENHAIN's other angle encoder modules, each of the new MRP 2200 encoder modules consist of a high accuracy angle encoder and robust embedded bearings that form one compact module. Because the bearing and encoder components are already ideally aligned and adjusted, builders can forego having to make those typical complex adjustments reducing their installation efforts up to 70%.
About HEIDENHAIN
DR. JOHANNES HEIDENHAIN GmbH, headquartered in Traunreut, Germany, develops and supports motion control feedback solutions for the machine tool, semiconductor, electronics assembly and test, metrology, automation, medical, energy, biotechnology and other global markets. HEIDENHAIN employs approximately 6,000 people worldwide in its core business activities. The North American subsidiary is HEIDENHAIN CORPORATION, headquartered in Schaumburg, IL, and San Jose, CA, and has been serving the U.S. industry for over 50 years. Here nine company brands are represented. More information at: www.heidenhain.us/about-us
Featured Product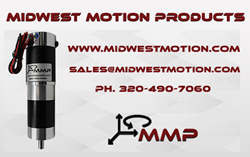 MMP specializes in supplying high-quality Brushed & Brushless DC Motors & Gearmotors for Robotics and Automation Equipment with a wide range of motor windings and gear ratios. With an impressive track record of more than 8,000 released DC Gearmotors designs and over 2,000,000 individual part numbers, we are renowned for our ability to handle large-scale orders. Due to our huge on-hand inventory, we are also well known for lightning-fast delivery of our standard products. We take pride in our dedicated customer service and our team of knowledgeable sales and engineering experts who are ready to assist you with custom design solutions tailored to your specific application. Additionally, we also offer a wide range of complimentary products, such as DC Motor Controls, DC Linear Actuators, AC-DC power Supplies, and DC Servo Amplifiers and others.