The investment, led by existing investor Temasek, puts Fabric's valuation at more than $1 billion and will fuel the retail technology trailblazer's mission to reinvent on-demand omnichannel fulfillment
(New York, NY, October 26, 2021) - Fabric today announced that it has closed a $200 million Series C funding round led by existing investor Temasek, with participation from Koch Disruptive Technologies, Union Tech Ventures, Harel Insurance & Finance, Pontifax Global Food and Agriculture Technology Fund (Pontifax AgTech), Canada Pension Plan Investment Board (CPP Investments), KSH Capital, Princeville Capital, Wharton Equity Ventures, and others.

With a valuation of more than $1 billion, Fabric has established itself as a market leader in the on-demand fulfillment space, leveraging its proprietary robotic micro-fulfillment technology stack designed from the ground up to make on-demand fulfillment profitable and scalable for all retailers. It has never been so complex and challenging for retailers to fulfill and deliver online orders, and with these funds, Fabric has emerged as a new kind of unicorn — a "robocorn" uniquely positioned to solve these challenges in the retail space.
E-commerce sales penetration more than doubled to 35 percent in 2020, the equivalent of roughly ten years of growth within a few months. This unprecedented surge in online shopping has been compounded by evolving consumer expectations to receive their orders faster than ever, a prohibitively expensive and challenging proposition for retailers. This trend will only continue, as the same-day delivery market in the US is poised to grow by $9.82 billion over the next four years. Despite this surge in consumer demand, fulfillment capacity has struggled to keep up, and finding and retaining labor remains a costly bottleneck.
"At the center of this perfect storm of e-commerce is Fabric and our ability to enable on-demand retail at profitable unit economics," says Elram Goren, Fabric CEO and co-founder. "While we use the term 'robocorn' a bit tongue in cheek, we see this milestone as a real turning point in the industry, from what was once trepid exploration of micro-fulfillment to total market validation and now rapid expansion. We're thankful to our partners for trusting us to serve them and to our incredible team who will continue moving mountains to make our vision a reality. This is still 'day one' for us, and we're extremely excited about the road ahead as we expand our offering into new markets, drive more efficiencies across the supply chain, and focus on scaling."
Fabric runs micro-fulfillment operations for grocery and general merchandise retailers in New York City, Washington, DC, and Tel Aviv. Just recently, Fabric announced major partnerships with Walmart, Instacart, and FreshDirect.
With these funds, Fabric will expand its on-demand fulfillment platform across the general merchandise market and build a network of micro-fulfillment centers across major metro areas in the United States to make fast delivery scalable and profitable for retailers. Fabric will support this stage of hypergrowth by also heavily recruiting for its world-class technology, commercial, and operations teams in Israel and across the United States. Fabric now has a global team of over 300 team members with offices in New York City, Tel Aviv, and Atlanta.
"We believe the movement to local fulfillment presents an opportunity to make retail and e-commerce more sustainable, and we're thrilled to partner with the leader in micro-fulfillment to make this vision a reality," said Eric Kosmowski, Managing Partner at the Princeville Climate Technology Fund. "By leveraging existing real estate with a small footprint in close proximity to end consumers, utilizing more sustainable packing materials, and minimizing shrink and waste through smart inventory management, Fabric's micro-fulfillment centers could lower last-mile emissions significantly."
Fabric has raised $336 million to date.
About Fabric
Fabric is a retail technology company on a mission to enable on-demand retail for everyone. By combining highly efficient robotic fulfillment operations with local last-mile operations, Fabric is redefining how supply chains work. The company has developed its own proprietary software and robotic micro-fulfillment technology and is running micro-fulfillment operations for grocery and general merchandise retailers in New York City, Washington, DC, and Tel Aviv. The company will expand to major U.S. metro markets in the coming year.
Fabric has offices in New York City, Tel Aviv, and Atlanta, with over 300 team members globally. Founded in 2015, Fabric is backed by leading investors including Corner Ventures, Innovation Endeavors, Aleph, Playground Ventures, Canada Pension Plan Investment Board (CPP Investments), Evolv (Kraft Heinz), Temasek, Princeville Capital, and more. For more information visit www.getfabric.com.
Featured Product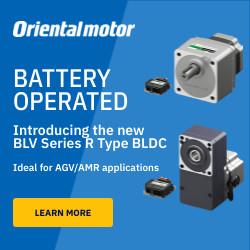 The BLV Series R Type brushless DC motor (BLDC motor) speed control system offers the design of motor and driver significantly reduced in size and weight, yet high-power, and contributes to the battery driven automation. The BLV Series R Type is compatible with the two interfaces of Modbus (RTU) and CANopen communication.