RE2 Robotics, a leading developer of intelligent mobile manipulation systems, shared the Company's year in review for 2021.
PITTSBURGH, PA - Jan. 5, 2022 - RE2 Robotics, a leading developer of intelligent mobile manipulation systems, shared the Company's year in review for 2021.

"Despite the challenges of the continuing pandemic, I am incredibly proud of our team's dedication and the progress we made this year across all areas of our organization," said Jorgen Pedersen, president and CEO of RE2. "In addition to celebrating the Company's milestone 20th anniversary, we significantly grew our engineering staff, secured our largest defense contract to date, and advanced our work with strategic partners in the aviation, construction, energy, and medical markets. We also re-evaluated what work looks like at RE2 by actively engaging and listening to our employees' ideas for increased flexibility and remote work options. Our company culture has been strengthened based on these valuable contributions."
In 2021, RE2 achieved numerous significant technical and operational successes. Highlights include:
• Celebrated its 20th anniversary, establishing RE2 as one of the longest-tenured companies in Pittsburgh's burgeoning robotics ecosystem.
• Grew its revenue by 40% and doubled its staff to more than 100 employees over the past 24 months.
• Launched the RE2 SapienTM line of intelligent robotic arms.
• Strengthened key strategic partnerships to enable market penetration of our autonomous mobile manipulation solutions for aviation, construction, medical, and underwater applications.
• Awarded contract with the Department of Energy's Solar Energy Technology Office (SETO) to develop a system for autonomous solar field construction.
• Secured its largest Department of Defense award to date: a $9.5 million U.S. Navy contract to develop an underwater robotic system for the autonomous neutralization of underwater mines.
• Expanded underwater testing capabilities through the construction of a 36,000-gallon tank, which enables the on-site testing of RE2 Sapien Sea Class systems.
• Achieved key autonomy milestones for aircraft servicing and maintenance, commercial construction, and robotic surgery
"Since we founded this company in 2001, our primary mission has been to develop robotic technologies that improve worker safety and productivity," said Pedersen. "The future of work is changing, driven, in part, by a shortage of skilled workers. As we move into 2022, RE2's intelligent mobile manipulation solutions will be used to augment that limited workforce, enabling companies to improve productivity, safety, and the ability to meet market demand. For example, applications such as aircraft maintenance and solar field construction require skilled workers to perform complex tasks at height. We believe that robotic manipulation and supervised autonomy will empower the available skilled workers to efficiently perform complex tasks at height while remaining safely on the ground."
###
About RE2 Robotics
RE2 Robotics provides the RE2 Sapien™ family of robotic arms, RE2 Detect™ computer vision software, and RE2 Intellect™ autonomy software to enable intelligent mobile manipulation systems that operate in a variety of complex indoor and outdoor environments. RE2's systems help companies in the aviation, construction, defense, energy, and medical industries to enable remote operations, improve worker safety and efficiency, and reduce operational costs. Visit www.resquared.com to learn more about our company, our people, and our robotic technologies.
Featured Product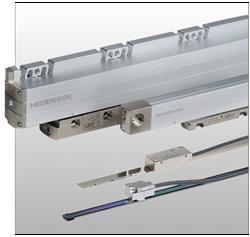 Nothing beats the positioning accuracy of linear encoders from HEIDENHAIN. Available in absolute and incremental versions and ideal for a variety of applications-including machine tools, semiconductor machines and medical machines-these measuring solutions combat a variety of issues that erode precision.