Ouster to deliver approximately 3,000 digital lidar sensors to Vecna Robotics through 2025 to help meet demand for warehouse and logistics automation
Ouster, Inc. (NYSE: OUST) ("Ouster" or the "Company"), a leading provider of high-resolution digital lidar sensors, announced today that it has signed a strategic customer agreement with Vecna Robotics, an intelligent material handling automation company. The agreement includes a non-binding forecast for approximately three thousand OS digital lidar sensors through 2025 as Vecna Robotics scales production to meet increasing customer demand for warehouse and logistics automation.

Vecna Robotics plans to fuse Ouster lidar into its multi-sensor autonomy stack to equip self-driving pallet trucks, tow tractors, and lift trucks for high-capacity material handling operations. The lidar helps the system confidently navigate dynamic environments, safely detect and avoid obstacles while working alongside human operations and manually driven vehicles, and intelligently map its path through real-time topological reasoning.
"We completed an exhaustive evaluation of all 3D lidar sensors on the market and found the Ouster OS0 to be our strong favorite," said Zachary Dydek,​ Chief Technology Officer at Vecna Robotics. "We believe Ouster's best-in-class customer service and proven scalability will enable Vecna Robotics to meet customer demand for high-volume production and further extend our technology leadership in the industrial AMR space."
Vecna Robotics works with some of the world's leading distribution, warehousing, and manufacturing companies to alleviate global supply chain challenges through automated solutions that increase throughput and efficiency in material handling. Manufacturing and logistics companies rely on over four million human operators to move nearly two billion pallets in the U.S. each day and approximately five billion pallets worldwide. Currently, less than one percent of material handling vehicles are automated, representing a significant opportunity to capture demand for warehouse automation within the $2.5 billion total addressable market (TAM) estimated for the industrial lidar market by 2025.
"Warehouse and logistics automation is critical to improving supply chain operations. Businesses are facing unprecedented shipping delays, labor shortages, and price inflation - and the demand to safely automate key aspects of the value chain is only accelerating," said Ouster CEO Angus Pacala. "We are excited to partner with Vecna Robotics as they scale to serve the market opportunity for intelligent material handling equipment."
About Vecna Robotics
Vecna Robotics is an award-winning flexible intelligent material handling automation company with solutions engineered for seamless work between autonomous mobile robots (AMR) and the labor, equipment, facilities, and systems that make business go. Our self-driving fork trucks, pallet trucks, and tuggers -- powered by proprietary Pivotal™ orchestration software and our 24/7/365 command center -- help distribution, warehousing, and manufacturing organizations automate their most critical workflows, maximize throughput and scale operations fast. For more information, visit www.vecnarobotics.com. Follow us on Twitter and LinkedIn.
About Ouster
Ouster (NYSE: OUST) is building a safer and more sustainable future through its high-resolution digital lidar sensors for the automotive, industrial, smart infrastructure, and robotics industries. Ouster's sensors offer an excellent combination of price and performance with the flexibility to span hundreds of use-cases and enable revolutionary autonomy across industries. With a global team and high-volume manufacturing, Ouster supports approximately 600 customers in over 50 countries. Ouster is headquartered in San Francisco, CA with offices in the Americas, Europe, Asia-Pacific, and the Middle East. For more information, visit www.ouster.com, or connect with us on Twitter or LinkedIn.
Featured Product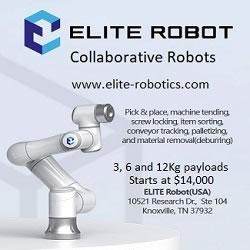 ELITE ROBOT lightweight 6-axis collaborative robots have payloads of (3kg, 6kg, and 12kg cobots). ELITE ROBOT cobots have gained a positive reputation among users in the Automotive, Electronics, Packaging Logistics, Metal Processing, Rubber & Plastics, chemicals, and other industries. The EC series robots start at $14,000 USD making it one of the fastest ROI in the industry. The EC robots come complete with 6 DOF arm, control box, teach pendant and software.