The new RSH electric hygienic rod-style actuator from Tolomatic delivers clean, continuous control to automation machinery.
The new RSH electric hygienic rod-style actuator from Tolomatic delivers clean, continuous control to automation machinery. RSH actuators are designed to help improve repeatability, enhance quality, reduce contamination potential and increase flexibility of hygienic machine designs, particularly for the food, beverage, medical, healthcare and pharmaceutical industries.

The RSH is clean-in-place (CIP) compatible, allowing designers to achieve open machine designs, and rated IP69K to withstand high-pressure washdown. The front-face sealing O-ring ensures a hygienic design from head to toe. The polished all-316 stainless-steel, smooth exterior resists corrosion and eliminates the need for protective shielding, which simplifies and lowers the cost of machine design. Design engineers can leverage the Tolomatic Your Motor Here database to select from a variety of stainless-steel motor manufacturers for a complete all stainless hygienic package.
The RSH is designed for forces up to 7,943 lbf (35 kN), speeds up to 20 in./sec (498 mm/sec) and stroke lengths up to 48 in. (1,200 mm). It is available in both ball screw and roller screw options. While ball screws are an economical option with medium life and force capabilities, roller screws (manufactured by Tolomatic) provide higher force capability, increased life and improved accuracy.
All Tolomatic actuators are designed with Endurance TechnologySM, a Tolomatic design principle that incorporates features designed for maximum durability and extended service life.
Information on the RSH actuator from Tolomatic can be viewed at:
https://www.electromate.com/pub/media/assets/catalog-library/pdfs/tolomatic/rsh-electric-hygienic-actuator-catalog.pdf
For further information, please contact:
EDITORIAL CONTACT:
Warren Osak
sales@electromate.com
Toll Free Phone: 877-737-8698
Toll Free Fax: 877-737-8699
www.electromate.com
Tags: RSH, Linear Actuator, Hygienic, Electric Actuator, Tolomatic, Electromate
Featured Product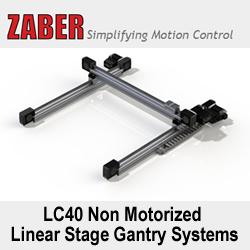 A Zaber gantry kit comes with everything you need to build a customized XY gantry system or XYZ gantry system. These gantry systems feature coordinated multi-axis motion, plug-and-play operation, easy integration with end-effector options, and built-in IO and E-Stop capabilities. An intuitive ASCII interface allows the user to easily communicate with the gantry systems using our free software, either Zaber Motion Library with APIs for several popular languages or Zaber Console. Third party terminal programs that can communicate over a serial port can also be used.