BitFlow BFPython API provides Python Wrapper to Enable Rapid Prototyping
WOBURN, MA, FEBRUARY 23, 2022 -- BitFlow, a global leader in frame grabbers for machine vision, life sciences and industrial imaging, has introduced BFPython, an application programming interface that allows engineers with Python expertise to acquire images from BitFlow's broad range of frame grabbers. Available immediately for download from BitFlow's website, these Python bindings wrap the BitFlow SDK's configuration, acquisition, buffer management and camera control APIs. The download also includes several Python examples that illustrate how bindings can be used.

A free, open source programming language, Python is simple to learn and use, making it one of the most popular languages for developing imaging applications, whether in Linux, Windows or embedded platforms. In machine vision, where prototyping is mission critical to understanding how a proposed imaging solution is progressing, BitFlow BFPython accelerates the building process and reduces final development costs for those experienced with Python code. To further assist in development, BFPython includes several sub-modules that provide convenient interfaces to access features such as CoaXPress camera control (via GenICam), Camera Link camera control (via the CL Serial API), among others.
Supporting the full line of BitFlow frame grabbers, the BitFlow SDK enables developers to bring high-speed image acquisition into machine vision applications, from cost-efficient simple inspection to ultra high-speed, high-resolution systems. The SDK includes a large number of example applications with full source code for aiding in the understanding the available functions, along with a number of utilities for developing and debugging. The free SDK version is for use with third-party applications such as LabVIEW, VisionPro and HALCON. The paid version is required for users developing their own applications, and offers such high-level advantages as header files, libraries and extensive example programs with detailed source code.
Visit www.bitflow.com for more information.
About BitFlow
BitFlow has been developing reliable, high-performance Frame Grabbers for use in imaging applications since 1993. BitFlow is the leader in Camera Link frame grabbers, building the fastest frame grabbers in the world, with the highest camera/frame grabber densities, triggering performance, and price. With thousands of boards installed throughout the world, into hundreds of imaging applications, BitFlow is dedicated to using this knowledge and experience to provide customers with the best possible image acquisition and application development solutions. BitFlow, located in Woburn, MA, has distributors and resellers located all over the world including Asia, the Americas, and Europe. Visit our website at www.bitflow.com.
# # #
Featured Product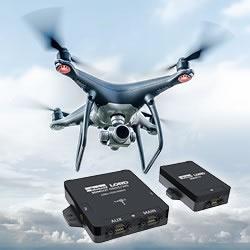 The new complete inertial navigation solution comes with GNSS/INS 3DMGQ7 sensor, 3DMRTK correction modem and real time SensorCloud RTK correction network. The sensor comes with Dual antenna GNSS, tactical grade IMU with centimeter-level accuracy with RTK. Low profile and light weight at 78 grams, this sensor is The sensor is optimized for size and weight in Unmanned Ground Vehicles, mobile robots and autonomous vehicles. The network interface 3DMRTK modem is seamlessly integrated into the 3DMGQ7 sensor supports industry-standard NMEA and RTCM 3.1 protocols. The network RTK support comes with cellular data plan. The SensorCloud RTK is a cloud-based RTK correction system with private encrypted data stream. Check out our G Series and C Series OEM products.