Live autonomous robot demonstrations at premier automation industry show
South Korea-based Yujin Robot will be a first-time exhibitor at supply chain conference MODEX in Atlanta March 28-31 (booth #C4397). Live lifting and mounting presentations will feature the innovative company's solutions, including its autonomous mobile robot (AMR) GoCart, showing supply chain leaders how to improve operations by saving time and money, allowing workers to focus on other tasks. Human operators interact together safely with these robots, certified at ISO 13482 with PI-d level safety.

"Our vision is to provide robotization capabilities to enhance people's quality of life and to power business," said Sean Park, CSO and CMO for Yujin Robot. "Leaders in supply chain management and warehouse automation are continuously tasked with improving and streamlining operations. Discussions about the possibilities of robotization are important — both to Yujin Robot and to the industry — and MODEX provides the perfect opportunity."
To meet the needs of logistics and factory automation, Yujin Robot, a total solutions provider in the materials handling industry, offers products that are ISO 13482 certified. Applications include lifting, conveyor, pallet lifting and more, with industry-leading technology for space recognition, navigation and safety.
Robotization and systems integration capability are the strength of Yujin Robot, South Korea's top-ranked robotics company. The company enables indoor autonomous mobility in manual machines such as forklifts, professional cleaning robots and meal trolleys. Thanks to in-house core technologies, Yujin Robot creates cost-competitive components that offer convenience as a one-stop-shop for customers.
Yujin Robot's success is fueled by its relentless focus on innovation in research and development; investment into its world-class, mass-production facility; and a healthy Korean ecosystem built on the country's goal of becoming the world's fourth-largest robotics player by 2023. Yujin Robot has been listed on the KOSDAQ since October 2005 and has 160 employees — more than half of whom are dedicated to research and development. The company is a leader in Korea's burgeoning robotics industry, having accumulated 194 patents as of 2020, and is known for its technology competence, competitive pricing, reliable and experienced management, commitment to incorporating client feedback and its coveted international certification.
To learn more about Yujin Robot, please visit the company's website at https://yujinrobot.com/. To schedule individual presentations at MODEX, please contact Sean Park (sean.park@yujinrobot.com).
Featured Product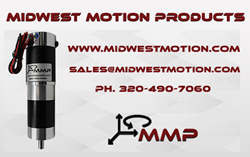 MMP specializes in supplying high-quality Brushed & Brushless DC Motors & Gearmotors for Robotics and Automation Equipment with a wide range of motor windings and gear ratios. With an impressive track record of more than 8,000 released DC Gearmotors designs and over 2,000,000 individual part numbers, we are renowned for our ability to handle large-scale orders. Due to our huge on-hand inventory, we are also well known for lightning-fast delivery of our standard products. We take pride in our dedicated customer service and our team of knowledgeable sales and engineering experts who are ready to assist you with custom design solutions tailored to your specific application. Additionally, we also offer a wide range of complimentary products, such as DC Motor Controls, DC Linear Actuators, AC-DC power Supplies, and DC Servo Amplifiers and others.