With the rapid development of Internet, artificial intelligence and 5g network, the development of robots in the field of security has also taken the opportunity, and the intelligent security patrol robot has developed rapidly.
The security patrol robot can deeply integrate the application of core technologies such as artificial intelligence, Internet of things and 5g network, the system integrates a series of functions, such as independent patrol, environmental perception, park monitoring, real-time communication, polar broadcasting and so on. It can intelligently identify personnel behavior, equipment operation status and environmental risks, build a safety defense line, improve inspection efficiency, and help users reduce costs and increase efficiency through independent inspection, video monitoring, background management and other functions.

Shandong OTO Robot Technology Co., Ltd. has launched an intelligent security patrol robot "TUTU", which can provide users with more convenient and intelligent factory and courtyard patrol security services.
"TUTU" integrates strong light lighting, warning calls, audible and visual electric bells, biometrics, environmental map self-learning, autonomous cruise, autonomous obstacle avoidance, rapid battery replacement and other functions, and is internally equipped with high-capacity battery and high torque power to provide super long endurance and strong power for the equipment. It is a reliable security guard, which is widely used in indoor and outdoor mobile defense and investigation solutions.
"TUTU" is simple and sensitive in operation, has the function of climbing and obstacles, has a small turning radius, can realize in-situ turning, and can quickly replace tires of the same specification and different purposes, which is convenient for use in the field and special environment. Able to enter the ordinary elevator room through the single door easily, which can realize the rapid switching between indoor and outdoor environment. The defense system can rotary ± 45 °, pitch 0 ~ + 30 °, and with high-pressure water pump, it can attack the enemy at 7 ~ 10 meters in an ideal environment. The self-learning of environment map and the cruise function of fixed time and route can better and faster adapt to the environment and achieve the optimal defense and investigation effect.
Equipped with high-performance 16 line radar and slam technology to build the patrol scene, it can conduct autonomous navigation patrol according to the set route. During the patrol, it can independently identify and avoid obstacles, monitor and identify hazard sources, and make early warning and expulsion in time.
Rapid security management
Patrol map can be quickly managed through upper computer; The establishment and deletion of patrol map can be realized; Modification of patrol route and other operations.
Intelligent security
When an abnormality is detected, it will mobilize its own PTZ camera to identify the abnormality. After it is determined as a hazard source, start the intelligent security function.
Audible and visual alarm: the equipped audible and visual alarm sends out bright red light and 110dB voice alarm sound to warn of danger source intrusion.
Voice warning: send voice warning to the hazard source through the equipped voice system, try to drive away the hazard source and turn on the lamp to illuminate the hazard source.
Drive off system: if the hazard source is still not eliminated after voice drive off. The Smurf turns on the drive off system, adjusts the angle of the water gun, and sprays the solution carried on the vehicle body to the hazard source.
Green environmental protection
Equipped with 50000ma high-capacity lithium battery; It can support long-distance cruise; Support 15A fast charging; The battery can be quickly disassembled and replaced for easy maintenance.
Four wheel drive, strong power
With four-wheel drive, the driving capacity is more powerful. Walk more smoothly and quickly. It can solve the security patrol work of indoor and outdoor scenes.
The traditional security system is realized by "Civil Air Defense + material defense". However, with the aggravation of population aging, soaring labor costs and high loss rate of security personnel, it has been difficult to meet the needs of modern security, and the security robot industry has ushered in new development opportunities.
OTO robot company has launched a fully automatic intelligent security patrol robot "TUTU", which is mainly used to perform various intelligent security service tasks, including autonomous patrol, environmental perception, monitoring and alarm, defense reconnaissance and other functions.
Widely used in Electric Power Patrol, factory patrol, manor patrol and other fields. It is applicable to airports, warehouses, parks, ports, hazardous chemical enterprises and other places, opening a new era of scientific and technological security patrol.
Featured Product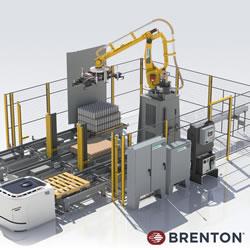 Brenton is a leader in robotic solutions with standard product offerings including palletizing and depalletizing for efficient an option for carrying hard-to-handle products, as well as larger scale systems with an optimized footprint; and case and carton loading solutions for numerous industries. In addition, Brenton works with customers on integrated solutions, offering robotics in a broad spectrum of robotics to fully integrate end of line systems. Brenton helps packaging customers protect their reputation and grow the trust of their consumers.