World's smallest piezoresistive, media-isolated pressure sensor – launched by Kistler
Kistler's new 4017A piezoresistive absolute pressure sensor combines excellent measuring features with universal applicability. Thanks to its compactness, innovative design and outstanding media compatibility it is optimal for use in engine development as well as hydraulic and pneumatic applications, in both hot and cold environments.

Piezoresistive (PR) pressure sensors consist of a silicon-based Wheatstone bridge which changes its electric resistance when exposed to pressure. This PR effect means that the sensing element is free of drift to a great extent - and is ideal for capturing static pressures. The PR pressure sensors can also be used for dynamic pressure measurements due to their ability to capture rapidly changing pressures even in low-pressure ranges. That is why such sensors became a standard choice in automotive applications, where precise measurements in the engine air and fuel path are required - but also for subsystem development such as brakes and cooling applications, that require high precision sensing.
Very precise measurements including temperature compensation
With the new 4017A, Kistler is taking pressure measurement technology to the next level: the miniature absolute PR pressure sensor has a mounting size of only M5x0.5 and was specifically designed for maximum robustness and accuracy. Its oil-filled measuring cell is media-isolated by a stainless-steel diaphragm and delivers a very high level of media compatibility for both gaseous and liquid media.
With a compensated temperature range from -20°C to +140°C, the new sensor can also be used for low-temperature tests. The digital temperature compensation allows a high level of accuracy (≤1% FSO), even in harsh environments. Sensor health monitoring (operating temperature: -40 to +180°C) is possible during measurements, due to the integrated temperature measuring element.
Applicable with water cooling and in hazardous environments
Its sophisticated design allows for a very high resistance against contamination, along with easy cleaning and maintenance. When applied in high-temperature environments, such as exhaust manifolds, the 4017A can be installed with a water-cooling adapter (deliverable as an accessory from Kistler). The new media-isolated sensor is available with different measuring ranges for pressures up to 5, 10, 20 or 50 bar. Optionally, it can be delivered with an ATEX certificate (Zone 2) suitable for applications in potentially hazardous areas.
The new 4017A miniature pressure sensor is 100% compatible with its predecessors of series 4005 and 4007. The PiezoSmart technology from Kistler offers automatic sensor identification and eliminates any risk of errors due to manual setup and handling during daily use. The measuring chain can be completed with Kistler's piezoresistive amplifiers of types 4665B (module for SCP, KiBox1), 4667A (module for KiBox2) or 4624A (stand-alone one-channel unit).
Featured Product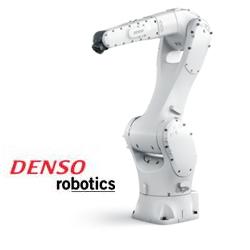 The new VMB series represent some of the newest members to our 6-axis family of robots. These high-performance, versatile units offer a longer arm reach and a higher load capacity than traditional models which make VMB an excellent solution for palletizing, packaging, and material handling. New features include greater air piping, valve and signal line options, as well as new programming options with state-of-the-art functions using our new WINCAPS Plus software. VMB offers an IP67 protection grade along with meeting ISO Class 5, which makes them suitable for electric parts, food manufacturing processes, and pharmaceutical and medical devices. With the addition of the new VMB large robots, all manufacturing processes can now be automated by DENSO Robotics.