As the bags become more thinner and flimsier, the more carefully they need to be treated. With the new BGX suction cup developed for handling flimsy bags this challenge is outdated. The BGX suction cup is suitable for applications in E-commerce, Fast Moving Consumer Goods (FMCG), Secondary food picking, Fashion, and other industries where bags are handled.
Bags made of thin plastic film such as those used for salad leaves and fresh herbs, or the aluminum foil bags used for chips and other snacks are flimsy and often just as fragile as their contents. New biodegradable and recyclable materials are becoming increasingly popular, and with it the challenges of bag handling increase.

The thinner the bags become, the easier they can be sucked into and damaged by the suction cup's grip. To avoid any damage to the bag or indeed to their contents, the lip of the suction cup needs to provide outstanding sealing capability even at low vacuum levels.
Piab's new BGX bag handling suction cup has been specially developed to be the perfect bag picker for flimsy and oversized bags addressing the challenges presented by this application. The lip of the bag cup is designed with outstanding sealing capability also at low vacuum level.
Produced as a one-piece suction cup with two bellows, the suction cup will easily pick bags of different heights with a safe and stable hold of the product in the fast/semi-fast robot applications.
The BGX suction cups are made of FDA & EU approved blue silicone for direct contact with food and are suitable for both high and low temperature applications. The suction cup can be configured by choosing between 3 sizes of the lip diameters 34, 41, and 48 mm and 6 different aluminum push-in fittings designed to attach safely to the robust neck of the cups.
The ultimate bag picker benefits:
• Perfect for picking flimsy bags
• Thin lip seals outstandingly at low vacuum level
• One piece suction cup provides safe and stable hold of the product in fast/semi-fast robot applications
• Multi bellow design compensates for height differences and uneven surfaces
• FDA & EU approved silicone material for direct food contact
• Suitable for both high and low temperature applications
• Configurable for individual applications in E-commerce, FMCG, Secondary food picking, Fashion, and other industries.
Piab's solutions for automated bag handling rely on our long-standing expertise in vacuum and ejector technology as well as the use of our specialized suction cups. With over 20 years' experience in developing bag handling suction cups, we still constantly challenge ourselves to create new cups for increasingly targeted applications supporting your success.
About Piab
Piab provides smart solutions for the automated world, helping thousands of end users and machine producers in e-commerce logistics, food, pharma, automotive and other manu­facturing industries to improve energy-efficiency, productivity and working environ­ments.
With almost 500 employees and SEK 1.2 bn in sales 2018, Piab is a global organization, serving customers in almost 70 countries from a network of subsidiaries and distributors. By leveraging the ongoing techno­logical development in automation and robotics, and targeting high-growth segments and geographies, Piab's vision is to become the global leader in gripping and moving solutions.
Featured Product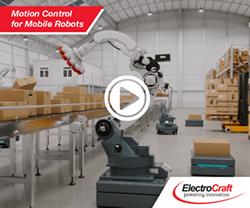 ElectroCraft is showcasing its award-winning mobile robot technology including their powerful and compact wheel drives, high-torque-density brushless DC motors, precision linear actuators as well as servo motor drive technology at a variety of conferences and tradeshows including the Boston Robotics Summit. Robotics Summit is the premier symposium for the sharing of ideas, technology, and market developments for robotic technologies across industries. Beyond a showcase and pitch of product, ElectroCraft is eager to participate in the collaborative discussion of challenges and opportunities that will shape the near and long-term robotic marketplace.