Knight Optical (KO) has provided discerning engineers, designers, and the like from the automation sector with dependable, premium-quality optics for over three decades. Throughout this time, the leading supplier has helped refine the precision of some of the world's most innovative technologies and partnered with a wide range of companies throughout the industry. In this article, Automation talks to KO about its involvement in the sector and, ultimately, finds out more about how the optical brand can help your supply chain process.
The Skilled Supplier You Can Trust

Over the past 30-plus years, we've worked with renowned names from the worlds of Aerospace & Defence, Oil & Gas, Food & Beverage, Automotive fields, and many more. As a result of these alliances, our optical components have been employed for applications that fall under pioneering, modern-day categories - such as Industry 4.0, Machine Vision, Robotics and Sensor-based technologies, to name but a few.
With tech's continuing evolution, it's fundamental that today's components are equipped to cope with the task at hand. Fortunately, when working with the team at KO, much of the pressure associated with specifications is eased thanks to the first-class customer service and industry knowledge that our workforce imparts. Our team can offer the advice you need to ensure your optics perform as necessary, such as suitable substrates, optical coatings and transmission characteristics to ensure high performance every time.
Reliable & Resourceful
Our long-standing relationships with our customers derive from our business clarity and ability to provide quick-thinking, problem-solving solutions to typical optical component-related application issues. Whether it's one-off prototyping, small batches or large-scale mass production, Knight Optical's Technical Sales Advisers support manufacturers and engineers every day throughout the world with the most complex, high-grade optical component applications.
Metrology-Tested Optical Components
It's not only our reliable in-house intelligence that grants us our leading reputation; however. As well as our ability to supply custom-made optical components (no matter the design intricacy) and extensive stock portfolio of over 3000 optics (ready for next-day dispatch) - both of which we'll explore below - we also boast our very own in-house Metrology Laboratory. From here, our team of fully qualified Metrology Technicians batch test your optics to confirm that they arrive to you precisely as specified. With cutting-edge apparatus - such as spectrometers, interferometers, and mechanical measurement systems to analyse characteristics such as transmission, reflection, and surface flatness; for example - our lab is fully equipped to examine every type of precision optical specification. So, you can rest assured that your optical components are produced to meet the exact conditions sought by your project.
Featured Product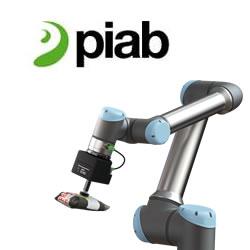 Piab's Kenos KCS gripper enables a collaborative robot to handle just about anything at any time. Combining Piab's proprietary air-driven COAX vacuum technology with an easily replaceable technical foam that molds itself around any surface or shape, the gripper can be used to safely grip, lift and handle any object. Standard interface (ISO) adapters enable the whole unit to be attached to any cobot type on the market with a body made in a lightweight 3D printed material. Approved by Universal Robots as a UR+ end effector.